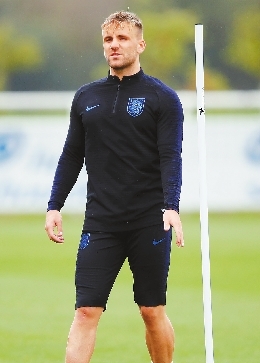 MANCHESTER United defender Luke Shaw's right leg nearly had to be amputated following an injury that saw him consider quitting soccer.
Shaw could this week make his first England start since facing Switzerland in September 2015, a week before his double leg break in a Champions League match at PSV Eindhoven.
"I nearly lost my leg," Shaw said Tuesday. "I never knew that until six months later when the doctor told me.
"At the time, they were thinking about flying me back (from the Netherlands) and if I'd have flown back, I would probably have lost my leg because of the blood clots and stuff in the leg."
Shaw revealed details of his injury in depth for the first time while on England duty ahead of the team's UEFA Nations League opener against Spain on Saturday. "I've got — I don't want to talk about it too much — two scars down the side of my leg where they had to cut it open and pull them out because of how severe it was," Shaw said. "But I don't really care about that anymore. I feel really strong and my right leg is exactly as it was before my leg break."
Shaw was not part of the England squad that reached the World Cup semifinals, losing to Croatia in Moscow in June.
(SD-Agencies)