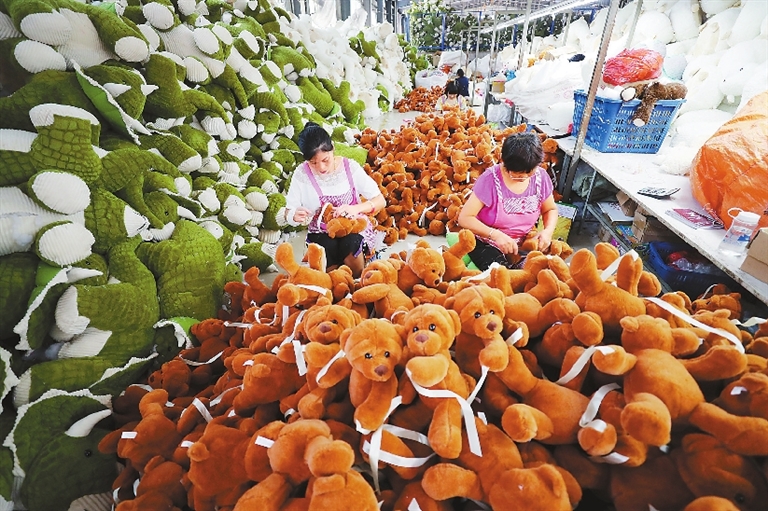 OFFICIAL data this week is expected to show export growth remained strong in August, despite escalating U.S. tariffs and signs of shrinking export orders, a recent poll showed.
But import growth, while still solid, is expected to downshift from July, adding to concerns about slowing domestic demand in the world's second-largest economy.
Even with U.S. tariffs targeting US$50 billion of Chinese exports going into effect for their first full month in August, Chinese shipments likely still rose 10.1 percent year on year, according to median estimates from 26 economists.
That would mark a slight decline from 12.2 percent in July but would still be the fifth month in a row of double-digit gains even as U.S. trade tensions flared.
Some analysts believe Chinese exporters are continuing to rush out shipments ahead of further U.S. tariffs, buoying the headline growth readings, while some companies like steel mills are diversifying and selling more products to other countries.
Other economists have noted that disruptions in supply chains and prices are likely to be more company-specific initially, and will take some time to be reflected in broader economy data and corporate earnings reports.
But official and private manufacturing surveys show global demand for Chinese goods is on a softening trend, with export orders shrinking for the last few months in a row.
In a further tip that China's supply chains are starting to feel the pinch, companies in some of its North Asian neighbors such as Japan are reporting weaker Chinese orders, business surveys showed.
China's imports likely rose 18.7 percent in August year on year, slowing from July's surprisingly high 27.3-percent growth. Its overall trade surplus is expected to have expanded to US$31.79 billion in August, from US$28.05 billion the previous month. The data is expected to be released Saturday.(SD-Agencies)