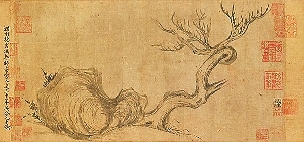 A MONOCHROME ink painting attributed to Su Shi, the revered artist, scholar and statesman of the Song Dynasty (960-1279), will go under the hammer at Christie's autumn auction in Hong Kong in late November.
His handscroll painting "Wood and Stone" depicts a scene of seclusion in which a tilting, leafless tree stands near a strangely-shaped rock that has small clusters of leaves sprouting from behind it, hinting at its hidden vibrancy.
Very few solid examples of Su's paintings and calligraphic scrolls are known to be in existence. Artworks attributed to Su are mostly in the collections of public museums such as the Palace Museum, the National Art Museum of China and the Shanghai Museum.
The painting that is up for auction belongs to a private Japanese collection, having been acquired in the early 20th century from an antique dealer in Shandong Province.
What adds to the rarity of this painting is that it comes with a piece of calligraphic writing by Mi Fu attached, the pre-eminent calligrapher who was, together with Su, among the "four great artists of the Song." (SD-Agencies)