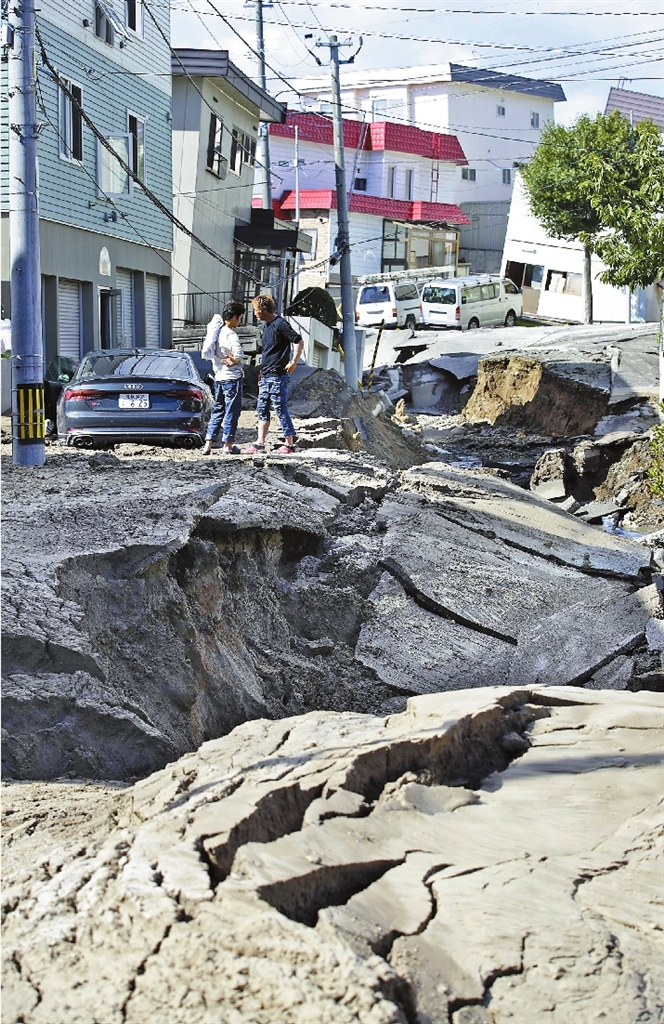 A POWERFUL 6.7-magnitude earthquake on Japan's northern island of Hokkaido caused huge landslides that engulfed houses early Thursday, killing at least nine people and injuring around 300 as well as trapping residents and cutting power in several areas.
The 3:08 a.m. quake also cut power supplies to all 2.95 million homes and a nuclear power plant in the prefecture while grounding flights and disrupting train services, authorities and other sources said. Power later returned in some areas.
Local media said the dead also included an 82-year-old man who fell down the stairs at his home during the quake.
About 30 people were missing and some 1,900 people were taking shelter at evacuation centers set up at more than 400 locations, according to police, rescuers and local authorities.
The government said the Self-Defense Forces are dispatching 25,000 personnel for relief operations.
The Tomari Nuclear Power Station in Hokkaido, which was not operational before the quake, was forced to turn to emergency back-up power to keep its cooling system working, NHK said.
The quake posed no tsunami risk, the Japan Meteorological Agency said. The U.S. Geological Survey said it struck some 68 km southeast of Sapporo, Hokkaido's main city.
Japanese Prime Minister Shinzo Abe, arriving at his office before 6 a.m., told reporters his government had set up a command center to coordinate relief and rescue.
About 20,000 rescue workers, including police and members of the Self-Defense Forces, were responding to the disaster, government spokesman Yoshihide Suga said. Another 20,000 SDF troops are expected to join the effort.
The operator of the Tomari Nuclear Power Station, Hokkaido Electric Power Co., reported no radiation irregularities at the plant, which has been shut shortly after a massive 2011 earthquake, said Chief Cabinet Secretary Yoshihide Suga.
A fire broke out at a Mitsubishi Steel Mfg Co. plant in the city of Muroran but has largely been brought under control, NHK said.
A series of smaller shocks, including a 5.4-magnitude one, followed the initial temblor, the Japan Meteorological Agency said. Agency official Toshiyuki Matsumori, at an early morning news conference, warned residents to take precautions for potential major aftershocks in coming days.
Japan, situated on the "Ring of Fire" arc of volcanoes and oceanic trenches that partly encircles the Pacific Basin, accounts for about 20 percent of the world's earthquakes of magnitude 6 or greater.
On March 11, 2011, a 9.0-magnitude earthquake, the most powerful ever recorded in Japan, struck under the ocean off the coast of the northern city of Sendai. The quake set off a series of massive tsunami that devastated a wide swathe of the Pacific coastline and killed nearly 20,000.
The tsunami also damaged the Fukushima Daiichi Nuclear Power Plant, leading to a series of explosions and meltdowns in the world's worst nuclear disaster in 25 years.
Sept. 1 marked the 95th anniversary of the Great Kanto earthquake, which had a magnitude of 7.9 and killed more than 140,000 people in the Tokyo area. Seismologists have said another such quake could strike the city at any time.(SD-Agencies)