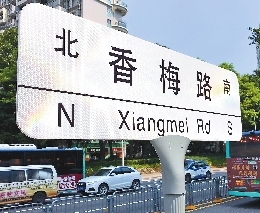 A NEW style of street signs with road names in black on a grey background might gradually replace the old ones across the city after an assessment of selected roads where the new signs have been installed for a trial run, the Shenzhen Special Zone Daily reported.
The characters and letters on current street signs are white on a blue background, but the transport commission said the old signs are not artistic enough to match Shenzhen's image. The authority said in March that it would replace the old street signs on some selected roads.
By mid-August, around 1,400 sets of new street signs had been installed on trial roads in each district and new area.
The new street signs add two uppercase English letters to indicate the directions north and south or east and west, while the old ones only show directions in Chinese.
The new road signs have sparked controversy. A resident surnamed Wang who lives near Xiangmei Road said she wasn't sure of the necessity of replacing the old street signs if it is only for the purpose of "being artistic."
Wang said the new signs employ light colors that make them look more upscale, but are not more functional than the old ones.
Some deputies to the city's legislature have also raised concerns about wasting money to replace old street signs that do not have major flaws.
In response, an official with the commission's facility bureau said that street signs function as a calling card for the city to many visitors.
The transport commission studied many cities outside of China and decided to change the colors of the street signs.
According to the person in charge, the design of the new street signs is easier for pedestrians to read and is closer to the ground. Also, the material used to make these street signs is cheaper than the old ones and easier to maintain.
Since the new street signs are thinner and lighter than the old ones, they will save about 30 percent of the cost when producing a new set. Meanwhile, the new street signs can be seen more clearly at night due to the special materials.
"After the commission assesses the trial use of the new street signs, we will decide if they will be promoted across the city," said the official.
Some residents also made suggestions for the new street signs. A netizen with the screen name Orienome advised adding the names of the two intersecting roads on the signs because many people have trouble telling directions. He also suggested including the range of door numbers of the blocks of the roads on the signs.
(Zhang Qian)