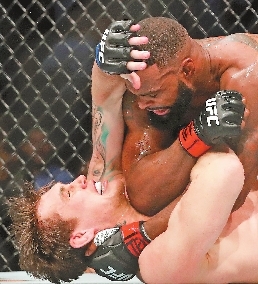 TYRON WOODLEY had the crowd buzzing instead of booing in his latest UFC welterweight title defense.
The champion who keeps on winning likely will avoid the wrath of UFC President Dana White this time as well, while Woodley waits for his next opponent.
Woodley sent Darren Till to the canvas with a right hand early in the second round, then repeatedly punched and elbowed his English opponent in the face and head before finally winning by submission at UFC 228 on Saturday night.
It was the fourth title defense for the 36-year-old Woodley, and first in more than a year after he was roundly booed and even criticized by White in his previous win in the 170-pound mixed martial arts division.
"Winning conquers everything if you really think about it," Woodley said. "As long as you keep winning, you keep building up your stats and people go back and look at your record, at the end of the day, they're going to recognize you as the greatest of all time. That's why I've been so quiet. I didn't overly celebrate after the fight. I just went out there and got the job done."
Till (17-1-1) lost for the first time in his first title fight.
"Backstage, I was just too calm," said the 25-year-old from Liverpool, England. "I don't have the same type of ritual for every fight. This time it cost me. In my eyes, it cost me everything."
(SD-Agencies)