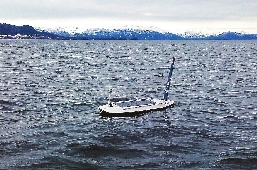 ALL summer, a robot boat drifted steadily eastward across the churning North Atlantic until it neared the Irish coast, where it made history by becoming the first unmanned sailboat to cross the Atlantic.
The SB Met, built by Norwegian company Offshore Sensing AS, reached the finish line of the Microtransat Challenge for robotic boats Aug. 26, two and a half months after setting off from Newfoundland, according to preliminary data.
It's a milestone that shows the technology for unmanned boats is robust enough to carry out extended missions that can dramatically cut costs for ocean research, border security and surveillance in rough or remote waters.
They're part of wider efforts to develop autonomous marine vessels such as robotic ferries and cargo and container ships that could be operating by the end of the decade, outpacing attempts to commercialize self-driving cars.
"We've proved that it's possible to do," said David Peddie, CEO of Offshore Sensing, which created the oceangoing drones, known as Sailbuoys.
Under the Microtransat's rules, boats up to 2.4 meters long can sail between Europe and the Caribbean or North America and Ireland. They must regularly transmit location data.
Autonomous boats face storms that bring fierce gales and high waves as well as numerous seaborne hazards.
(China Daily)