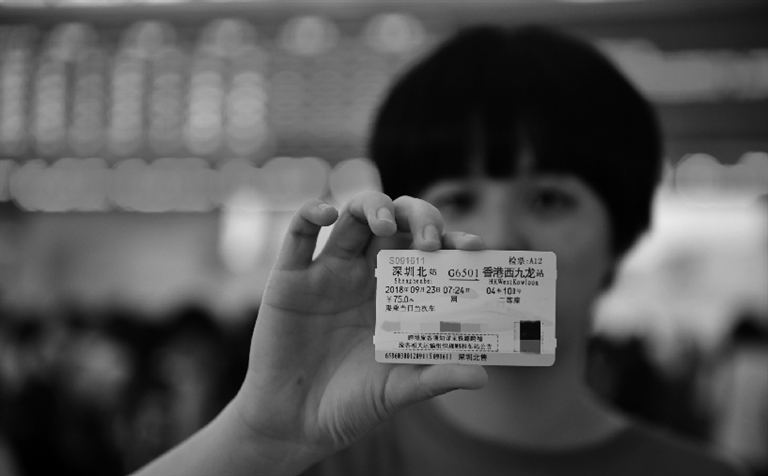 Han Ximin
ximhan@126.com
THE tickets for the first train departing from Shenzhen North Railway Station to Hong Kong West Kowloon Station were sold out in an hour yesterday, the first day of presales for the Guangzhou-Shenzhen-Hong Kong Express Rail Link (XRL) slated for operation Sept. 23.
At 8 a.m. yesterday when presales opened, two travelers surnamed Wang and Chen snapped up tickets for G5711, the first train to Hong Kong, at the counters of Shenzhen North Railway Station.
In half an hour, more than 200 tickets were sold, but no more than 10 tickets were sold at the counters, according to a release by Shenzhen North Railway Station yesterday.
By 5 p.m., 15 trains, either departing or passing through the station to Hong Kong, had been sold out on www.12306.cn, the official ticket-booking website of China Railway Corp. and first choice for ticket buyers.
The tickets for morning, noon and evening commuters sold out fast.
At the other end of the rail, in Hong Kong, the first train departing from West Kowloon Station to Shenzhen was sold out in 30 minutes.
Local people crowded and lined up at the purchasing counters to buy tickets at West Kowloon Station when presales started.
Executives and employees from Hong Kong MTR Corp., the operator of the Hong Kong section of the railway, joined the crowd to offer guidance and services to ticket buyers.
Following the operation of the Hong Kong section of the high-speed rail line, the operator will arrange for 26 pairs of trains between Shenzhen North Railway Station and Hong Kong and 58 pairs of trains between Futian Station and Hong Kong, sources from Shenzhen North Railway Station said yesterday.
The shortest travel times from Futian Station and North Railway Station to Hong Kong will be cut to 14 and 19 minutes, respectively, while the fares for second seaters have been set at 75 yuan (US$11) and 68 yuan, respectively.
The operation of the 26-kilometer Hong Kong section of the express rail link will mark the first connection between Hong Kong and the mainland high-speed rail network.
A total of 95 pairs of trains, including 13 pairs of long-distance trains, will be put into operation, linking Hong Kong with more than 40 mainland cities, including Beijing, Shanghai, Wuhan, Changsha, Nanchang, Xiamen, Guiyang and Guilin.
From Hong Kong, it will take 47 minutes to get to Guangzhou, eight hours to Shanghai and nine hours to Beijing.