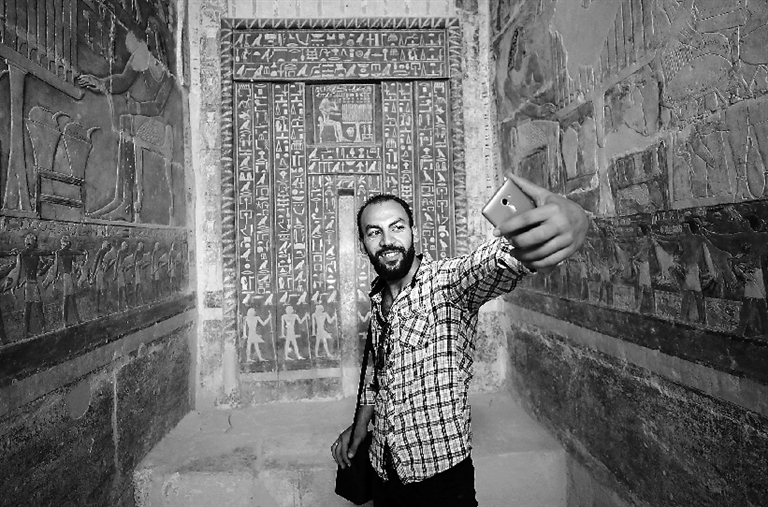 EGYPT on Saturday allowed the public to visit a 4,000-year-old tomb in the Saqqara necropolis near Giza for the first time in a bid to promote tourism.
The tomb, discovered in 1940 by Egyptologist Zaki Saad, belongs to an ancient Egypt high-ranking official named Mehu who was related to the first king of the sixth dynasty.
"It is a beautiful tomb, and it was discovered in 1940. We are making sure to constantly present cultural content for tourists. This is why we open tombs for visitors and in the past two or three years, we opened a large number of museums such as Sohag's museum after 30 years of works. Today we opened this previously discovered tomb to invite ambassadors and show the media that Egypt is safe," said Khaled El Anany, Egyptian minister of antiquities .
The tomb included two chambers, both with wall inscriptions of the owner of the tomb hunting as well as drawings showing aspects of Ancient Egyptian lives such as hunting and acrobatic dancing.
Mehu lived during the reign of King Pepsi I and held 48 titles inscribed on the walls of his burial chamber. Among the titles are the scrub of the royal documents, the vizier and head of the juries.
The tomb consists of burial chambers for his son Mery Re Ankh and grandson Hetep Ka II.
It also has a long narrow corridor with six chambers.
Egypt, one of the most ancient civilizations, has been working hard to preserve its archeological heritage and discover the secrets of its ancient antiquities in a bid to revive the country's ailing tourism sector.
(SD-Agencies)
Tourism sector has suffered an acute recession over the past few years due to political turmoil and relevant security issues. Enditem2018/09/09 00:03