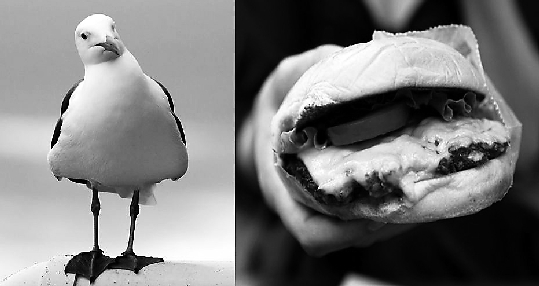 A U.S. man accused of kicking a seagull that made off with his cheeseburger on a New Hampshire beach has been fined US$124 for an incident he says was nothing more "than a simple mistake."
Speaking with NH1 News, Nate Rancloes said he was simply trying to enjoy a burger and fries with his daughter at the beach last month, when a seagull made a move for his food.
"I had just gotten back from getting a cheeseburger and fries. I was sitting on the sand," the decorated war vet said. "A seagull got to my burger, and while still sitting in the sand, I spun around in a circle with my leg out to shoo it away, and unfortunately, did strike the seagull hard.
"It was a one in a million bad luck kick that couldn't be repeated," Rancloes said.
A bystander said the bird's leg appeared to have been injured and the seagull struggled to fly, NH1 reported.
New Hampshire Fish and Game Lt. Adam Cheeney told the news outlet he investigated the incident by speaking with the accused and at least one other witness. Cheeney said the witness corroborated the man's account of the kick being accidental. However, because seagulls are protected under federal law, the department moved forward with the fine, Cheeney explained. (SD-Agencies)
Rancloes apologized for the incident, saying it was "no more than a simple mistake."
"If I intentionally hurt the seagull in front of hundreds of witnesses, I would perhaps be the dumbest criminal ever," he said.