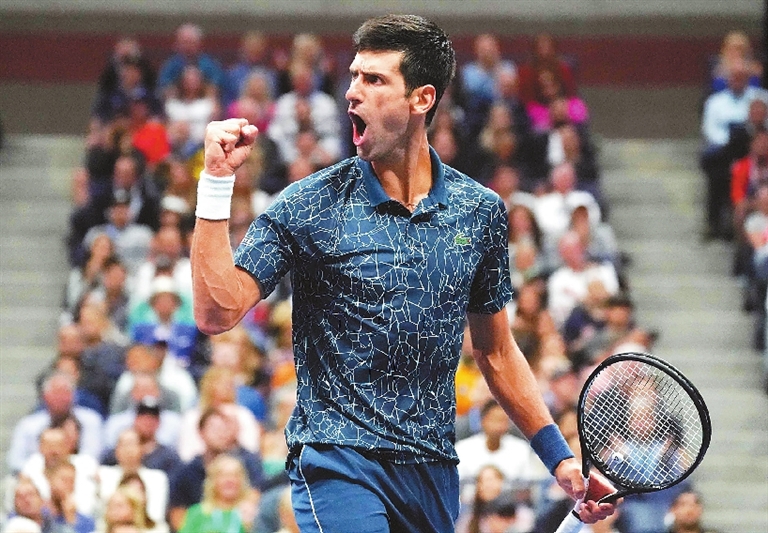 NOVAK DJOKOVIC won his 14th Grand Slam title and second in a row by getting through a key 20-minute game to beat 2009 champion Juan Martin del Potro 6-3, 7-6 (4), 6-3 in the U.S. Open final Sunday.
A year after missing the U.S. Open because of an injured right elbow that would require surgery, Djokovic showed that he is unquestionably back at his best and back at the top of tennis.
This was Djokovic's third championship in New York, along with those in 2011 and 2015. Add in the trophies he has earned at six Australian Opens, one French Open and four Wimbledons, most recently in July, and the 31-year-old Serb pulled even with Pete Sampras for the third-most majors among men, trailing only Roger Federer's 20 and Rafael Nadal's 17.
Federer lost in the fourth round in New York, while Nadal retired from his semifinal against del Potro because of a bad right knee.
That put the 29-year-old Argentine back in a Grand Slam final for the first time since his breakthrough nine years ago, a comeback for a guy who had four wrist operations in the interim.
"I believe he'll be here again with the champion's trophy. I really do," said Djokovic, who gave his pal a hug at the net, and then went over to console del Potro as he wiped away tears at his sideline seat.
Del Potro spoke last week about the low point, in 2015, when he considered quitting the sport. But supported by a dozen or so friends from back home, whose "Ole!" choruses rang around the arena, he climbed up the rankings to a career-high No. 3 by thundering his 160 kph forehands and 215 kph serves.
Those produce free points against so many foes. Not against Djokovic, who always seemed to have all the answers — and who said he convinced himself that all of those "Oles" were actually people calling out his own nickname: "Nole."
Djokovic was better than del Potro on their many lengthy exchanges, using his trademark body-twisting, limb-splaying court coverage to get to nearly every ball, sneakers squeaking around the blue court in Arthur Ashe Stadium, where the roof was closed because of rain.
"I was playing almost at the limit, all the time, looking for winners with my forehands, backhands, and I couldn't make it," del Potro said, "because Novak (was) there every time."
Never was that more apparent than the game that stood out on this evening, with Djokovic serving while down 4-3 in the second set. They went back and forth, through eight deuces and all those break opportunities for del Potro, until he slapped one forehand into the net, and another sailed wide.
Those were high-risk shots, but, as del Potro put it: "It's the only way to beat these kind of players."
Djokovic's coach, Marian Vajda, called that moment the match's "turning point, obviously." (SD-Agencies)