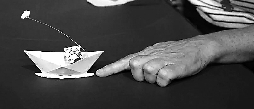 Groupe Maritime de Theatre from France will present an interactive show for children aged 3-7.
"Bonne Peche, Mauvaise Pioche" is an ecological tale for children and a paper cut-out show. Here everything is made of paper: the sea, the land, the house, the boat, the fisherman and the fish. Watch as the artist folds, pulls, pushes, rolls, sings, and tells a story that ends well.
This paper show is adapted from Thierry Dedieu's book "Good Fishing." Joseph the fisherman hauls in a whole heap of stuff, gadgets and junk with his nets but fewer and fewer fish! What is he to do with all this bric-a-brac?
Chinese version: 7:30 p.m., Sept. 14; 10 a.m., 2 p.m., Sept. 15
French version: 11:30 a.m., Sept. 15
Tickets: 100-150 yuan
Venue: Mountain View Theater, 3/F, Sea World Culture and Arts Center, 1187 Wanghai Road, Shekou, Nanshan District (南山区蛇口望海路1187号海上世界文化艺术中心三楼境山剧场)
Metro: Line 2 to Sea World Station (海上世界站), Exit A
(SD News)