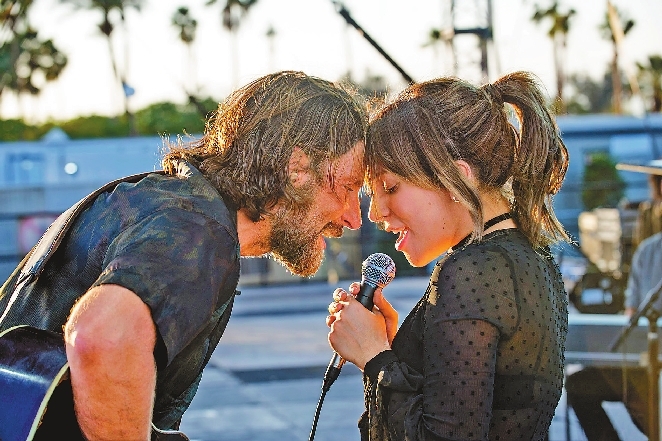 There's a lot to love in Bradley Cooper's remake of "A Star is Born," including his convincing* portrayal of a hard-drinking country rocker in some electrifying concert scenes, and the debut in a big-screen leading role of Lady Gaga as the singer-songwriter whose career he launches, only to watch it quickly eclipse* his own.
His natural charisma* enables him to soften the self-destructive edges of veteran musician Jackson Maine. Gaga stars as Ally, a struggling musician working as a waitress.
Some of the concert scenes were filmed at music festivals like Coachella, and there's a surge of excitement as Cooper's Jackson (Jack to his friends) crunches power chords on his guitar before a pumped-up* arena crowd, launching into one of a handful of songs built around the theme of yearning for* change. After the show, he asks his driver to pull over at a random bar, where it turns out to be drag* night.
Ally, who used to wait tables at the joint, has a guest spot among the lip-syncing* glamazons. She belts out a powerhouse rendition of "La Vie en Rose," making eye contact with Jack while singing. Encouraged by Ally's bosom buddy Ramon (Anthony Ramos), Jack hangs around after the show.
As their evening continues together, he learns that negative perceptions about her looks have stopped her from performing her own material, while she discovers a melancholy* man quietly longing for something more. He makes her head spin by sending a car and private plane to bring her to his next concert and then hauls her out onstage with no warning to perform one of her songs as a duet. The soulful strength in Ally's vocals makes her a fine match for Jackson, and also makes it believable that his fans would respond so enthusiastically to her.
The quick progression into love, cohabitation and marriage is quickly handled. Along the way, Ally has to deal with Jack's excesses, on one hand giving him his space while on the other letting him know she won't keep following him down his dark spiral.SD-Agencies