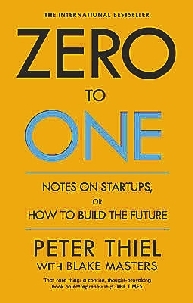 Not many people can be entrepreneurs, but this book could inspire many and it can certainly guide one to a more open-minded approach. Peter Thiel shows us that unconventional* thinking (i.e. zero to one) is absolutely required to succeed with a new business. In this 2014 book, you will read unconventional ideas like "monopolies* are good."
Thiel talks about how small emerging companies and investors need to aim for monopoly. Monopolies have far greater profits, pricing power and ability to think long-term. For small companies to be a monopoly, they need to focus on dominating a small market that is expanding, and then further grow into other complimentary markets. Believe him or not, you will find it mind-blowing.
Venture capitalist, PayPal co-founder, and early Facebook investor Thiel wrote this book along with Blake Masters. It is a condensed and updated version of a highly popular set of online notes taken by Masters for the "Computer Science 183: Startup" class on startups taught by Thiel at Stanford University in Spring 2012.
Besides Facebook, Thiel has provided early funding for Linked-In, Yelp, and dozens of successful technology startups, many run by former colleagues who have been dubbed the "PayPal Mafia*." He is a partner at Founders Fund, a Silicon Valley venture capital firm that has funded companies like SpaceX and Airbnb.
Both English and Chinese versions of the book are available at online bookstores.
(SD-Agencies)