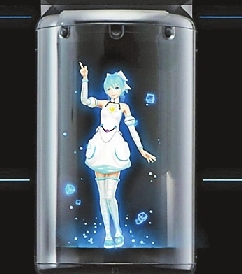 A Japanese firm is hoping a tiny holographic* maiden could take the place of a wife.
Called "Azuma Hikari," the tiny holographic anime maiden stands just a few inches tall inside of a cylindrical projector. Japanese tech firm Gatebox says the system is able to communicate with its owners through speakers and even an app.
It uses microphones, cameras and sensors to detect temperature and motion, allowing her to interact with users on a more personal level and the firm boasts the character will always try her best to serve her users. It also boasts a dual microphone to pick up speech.
"This will enable characters to communicate actively, for example, smiling to users when characters find them, welcoming home users by automatic detection," the firm says.
The assistant was designed by Taro Minoboshi and voiced by Yuka Hiyamizu, a Japanese actress. It also has wireless LAN*, Bluetooth and infrared* letting you control home appliances such as television, lights and air conditioning.
The virtual persona can also wake you in the morning, tell you to pack an umbrella, turn the lights when she knows you're on your way home, and unwind at the end of the evening by watching TV with you.(SD-Agencies)