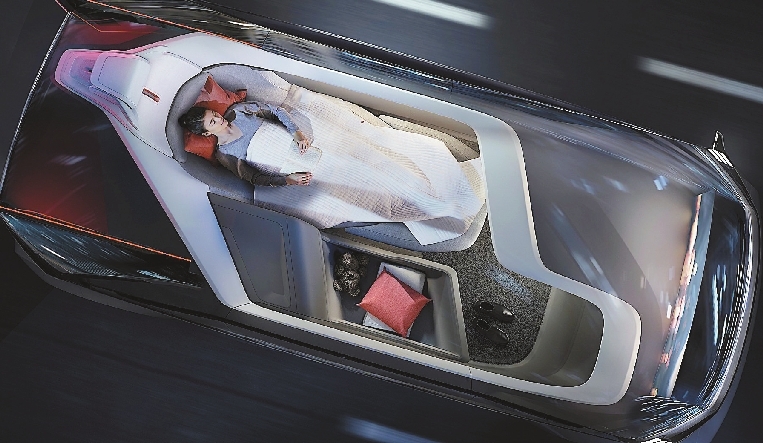 Volvo envisions a future where your car is a place to sleep and work while on the road.
The Swedish carmaker unveiled its latest concept car last week. Dubbed "the 360c," it's an all-electric, autonomous vehicle meant to make traveling and commuting a more pleasant experience.
Volvo, which is eyeing a 2021 release date, has an ambitious vision for the 360c, believing it could revolutionize short-haul* air travel, city dwelling and our environmental footprint.
Besides city driving, Volvo said the 360c would create new demand for inter-city taxi passengers traveling as far as 300 km.
The firm claims it will feature level 5 autonomy, removing the need for a human driver whatsoever.
Without a steering wheel or combustion engine*, Volvo has redesigned the car's interior to become a futuristic* living room, bedroom or work space, equipped with full mobile connectivity. It has a sleek exterior that looks like a combination between an SUV and a sedan.
In a video teasing the vehicle, passengers sleeping in a pod-like bed, holding meetings and hanging out with friends as the concept car speeds down a highway.
The car's windows turn into futuristic screens that show relevant information.
It appears the car could even be fitted with some kind of digital assistant, as a scene in the teaser video shows the words "Hi, how may I help you?" featured on the passenger window.
It uses a system of lights and audio signals to notify pedestrians and other cars about the car's movements
(SD-Agencies)