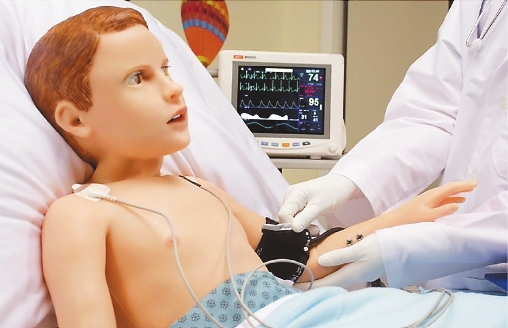 Medical students are using a robot boy to better understand how young patients respond to treatment.
Called "Hal," the realistic robot can cry, bleed, talk and go into anaphylactic shock*. It also has a "pulse."
The device was created by Gaumard Scientific, which has been creating teaching simulators* for hospitals, schools and other industries since the 1940s.
Hal marks a major departure from test mannequins* and not just in price, as the unit starts at US$48,000.
"Participants can perform a full range of emergency procedures including surgical airway*, needle decompression*, and chest tube thoracostomy* with the highest degree of realism," said John Eggers, Gaumard's executive vice president. "It's the closest experience to real world pediatric emergency care available today."
To make it mirror a real human, Guamard engineers studied actual children by looking at their facial expressions, including how their muscles moved and eyebrows furrowed.
Hal is made up of a mechanical-pneumatic* system that creates a pulse, as well as a cartridge in the robot's leg that exhales carbon dioxide*.
A hydraulic* system makes him cry tears and pumps blood throughout his body.
This enables trainees to learn how to operate a glucose* monitor on the robot, as pricking his finger will generate a drop of blood.
The robot can even urinate or go into cardiac arrest.
Trainees can connect him to an electrocardiogram* to monitor his "heart" and monitor his pulse using an arm cuff, or jolt him back to consciousness with a defibrillator*. (SD-Agencies)