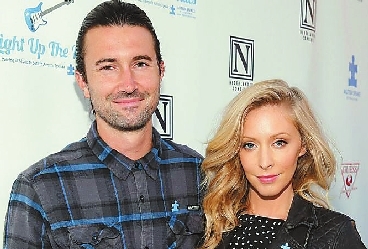 Brandon Jenner and his wife, Leah Felder, are calling it quits after six years of marriage.
The 37-year-old son of Caitlyn Jenner and Linda Thompson announced the news via Instagram on Monday.
"Hi everybody, it is with love in our hearts that we feel it's time to share some personal news with you all," wrote Jenner, who shares one child, daughter Eva James, with Felder. "After celebrating 14 beautiful years together, we have lovingly come to the decision to end the romantic aspect of our relationship. We are deeply proud of the life we've cultivated together and are truly grateful for the bond of friendship we hold and cherish today. It is stronger than ever."
"Even though we have chosen to separate as a couple, we still love one another very, very much and remain a major part of each others lives — as best friends, family and loving parents to our daughter," he added.
Jenner and Felder first became friends in middle school, later tying the knot in May 2012 in Hawaii. The two also worked together professionally as indie pop group Brandon & Leah. Their most popular single, "Showstopper," was the theme song for the "Keeping Up With the Kardashians" spinoff show, "Kourtney and Kim Take Miami."
(SD-Agencies)