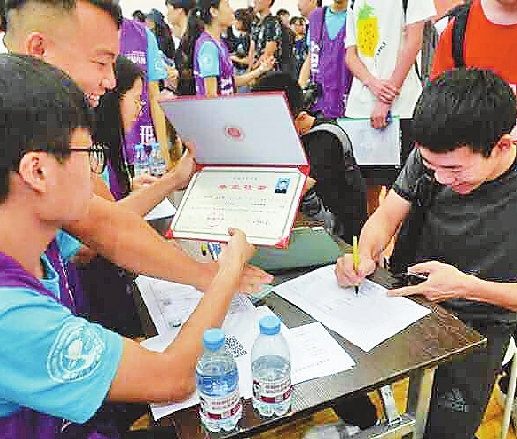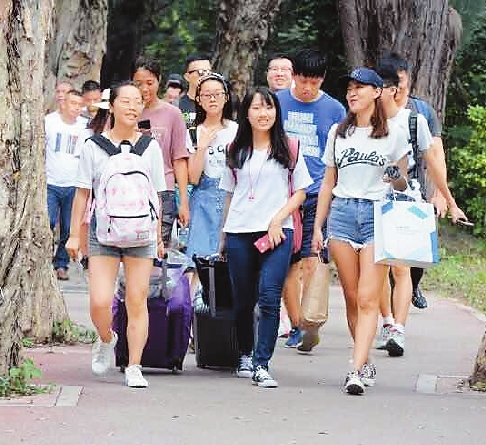 A total of 9,500 students including 6,736 freshmen and 2,804 graduate students arrived at the Houhai and Xili campuses of Shenzhen University (SZU) on September 8, filling the school with excited young faces.
Among the newly enrolled students, the youngest is only 15 years old. A total of 175 of the new students come from Shantou Chaoyang Experimental School, making it the high school with the highest number of students admitted by SZU.
Each faculty member at the university prepared a special gift for the new students. For example, the School of Humanities prepared a personalized bottle of cola with the name of each new student printed on the label. The College of Physics and Energy prepared a mouse pad printed with a calendar for its new students.
The admission score of SZU's incoming students ranked the fourth-highest in Guangdong Province for the fifth consecutive year. This year, its admission score for literature and history majors ranks among the top 1.2 percent of the whole province, with an average score of 593. Its admission scores for science and engineering majors, with an average score of 580, ranks among the top 4.7 percent of the province.
SZU has also enrolled 98 freshmen from Hong Kong, Macao and Taiwan, with their admission scores marking a record high. The university's special project for enrolling students from impoverished areas was also successfully executed.
Last year, SZU initiated an excellence cultivation program for innovative talents. The program attracted a large number of quality students. This year, a total of 157 top students were admitted into the program.
The students admitted to this program will study under elite professors who won the National Science Fund for Distinguished Young Scholars award and academic advisors who were recognized by the Outstanding Youth Science Foundation. Additionally, the students will be endowed a scholarship for new students and a subsidy for international exchange.
(Chen Xiaochun)