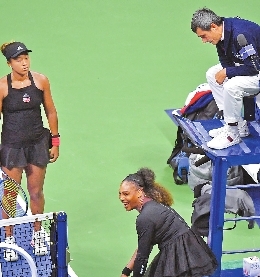 THE chair umpire who penalized Serena Williams a game in the U.S. Open final has been assigned to officiate the Davis Cup semifinal matches between the United States and Croatia.
International Tennis Federation (ITF) spokeswoman Heather Bowles confirmed Tuesday that Carlos Ramos was chosen to work at the best-of-five series that begins Friday and concludes Sunday in Zadar, Croatia.
The U.S. team includes Jack Sock, Sam Querrey, Steve Johnson, Mike Bryan and rookie Frances Tiafoe.
Ramos was in the chair at Flushing Meadows on Saturday when Naomi Osaka won her first Grand Slam title by beating 23-time major champion Williams 6-2, 6-4. That match descended into chaos — with thousands of spectators booing and both players crying during the trophy ceremony — after Williams confronted Ramos about his rulings. Williams was fined US$17,000 by the U.S. Open's tournament referee the next day for three code violations.
On Monday, the ITF issued a statement defending Ramos, saying his "decisions were in accordance with the relevant rules" and that his rulings were "reaffirmed by the U.S. Open's decision to fine Serena Williams for the three offenses."
(SD-Agencies)