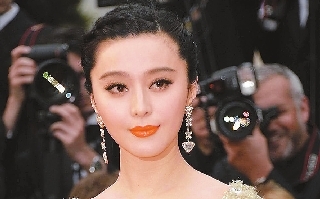 CHINA'S highest-paid movie star Fan Bingbing, who has not been seen in public since July, was placed last in an academic report ranking A-list celebrities on their social responsibility.
The 36-year-old actress has been a household name in China for years and tasted Hollywood success with a role in the 2014 blockbuster "X-Men: Days of Future Past."
Last year, she topped Forbes magazine's list of top-earning Chinese celebrities with income of 300 million yuan (US$43 million). But she has gone quiet in recent months, following allegations of tax evasion.
In a report by Beijing Normal University published earlier this month, 100 Chinese stars including popular actor Jackie Chan and award-winning actress Zhang Ziyi were ranked according to their professional work, charity work and personal integrity.
But with a pass requiring a score of more than 60 percent, only nine celebrities made the cut, with Chinese actor Xu Zheng topping the list at 78 percent.
Fan had a score of zero.
The report's authors said they studied the celebrities' behavior to assess the extent of their social responsibility but did not elaborate how they arrived at the results, saying that the findings were based on "research and web-scraping."
The ranking has split fans online, with many jumping to Fan's defence.
"What kind of a report is this? Fan has done so much good work in the past!" one user wrote on the Twitter-like Weibo platform. (SD-Agencies)