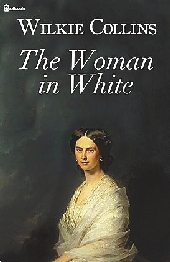 This is Wilkie Collins' fifth published novel, written in 1859. It is considered to be among the first mystery novels and is widely regarded as one of the first and finest in the genre of "sensation novels*."
The story is sometimes considered an early example of detective* fiction with protagonist Walter Hartright employing many of the techniques of later private detectives.
Hartright, a young art teacher, meets and gives directions to a mysterious and distressed* woman dressed in white, lost in London; he is later informed by policemen that she has escaped from an asylum*.
Soon afterward, he travels to Limmeridge House in Cumberland, having been hired as a drawing master on the recommendation* of his friend Pesca. The Limmeridge household comprises the invalid Frederick Fairlie, and Walter's students: Laura Fairlie, Mr. Fairlie's niece, and Marian Halcombe, her devoted half-sister. Walter realizes that Laura looks exactly like the woman in white, who is known to the household by the name of Anne Catherick: a mentally disabled child who formerly lived near Limmeridge, and was devoted to Laura's mother, who first dressed her in white.
Over the next few months, Walter and Laura fall in love, despite Laura's betrothal* to Sir Percival Glyde.
The theme of the story is the unequal position of married women in law at the time.
The book is available at online bookstores.(SD-Agencies)