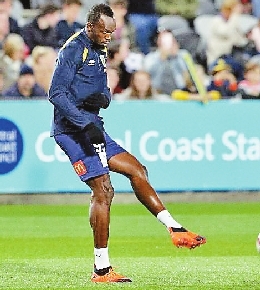 USAIN BOLT said his performance in a trial game Friday could determine his future with the Central Coast Mariners in Australia's A-League and his quest to play professional soccer.
The eight-time Olympic sprinting champion is expected to start for the Mariners against a Macarthur South West United team in western Sydney. United plays in a second-tier competition.
"This is going to be a big game. I think it will determine if the club makes up its mind on what to do with my career," Bolt said yesterday.
The Mariners begin the A-League regular season Oct. 21 in Brisbane against the Roar. Bolt, who holds the 100- and 200-meter world records, has retired from competitive track and field.
After being used as a winger in his first brief trial appearance in late August, Bolt hinted at a positional change for the match at Sydney's Campbelltown Stadium. Coach Mike Mulvey "said he wants to play me up top more," Bolt said. "The couple of games that I played, I didn't play with the first team.
"There's a few first-team boys in the team for Friday. So I'll get different service, better service, because they're more seasoned and more mature."
The 32-year-old Jamaican track great said he was pleased with his progress in soccer.
"That's always a good step, when coaches are satisfied with the fitness to put me in the starting lineup." (SD-Agencies)