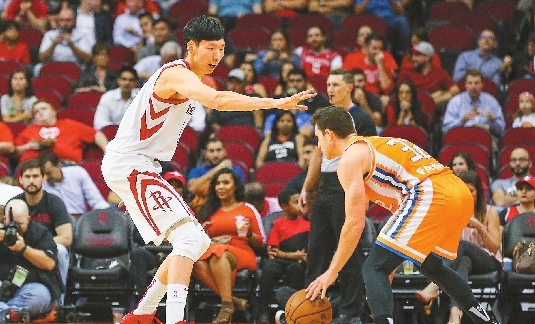 HOUSTON Rockets' Zhou Qi played only three minutes Tuesday night before the center from China sprained his left knee against the Shanghai Sharks.
Zhou, the Rockets' second-round pick in 2016 who played in 18 games last season, was playing in his first preseason game.
He bent over to pick up a loose ball in the lane in the second quarter when Shanghai's Luis Scola crashed into his left knee, bending it sideways.
The 22-year-old Qi immediately grimaced in pain and grabbed for the knee.
He was taken to the locker room in a wheelchair. Coach Mike D'Antoni said before the game Qi was expected to see plenty of playing time against Yao Ming's former team.
It was one of 13 preseason games this year where NBA teams host international clubs. The other international teams include the Beijing Ducks, Melbourne United, New Zealand Breakers, Sydney Kings and Perth Wildcats.
In addition, the Mavericks and 76ers played two exhibition games against each other in China this preseason.
James Harden had 37 points in 30 minutes, leading the Rockets to the victory.
Harden was 13 of 18 from the field, including 9 of 14 from 3-point range.
He also had nine assists. PJ Tucker had 22 points and six 3-pointers as the Rockets launched 66 3s, making 28.
Jimmer Fredette led the way for the Sharks with 41 points on 16-of-40 shooting. He also had nine rebounds and three assists.
Scola, a former Rocket, finished with 18 points on 8-of-13 shooting and 12 rebounds.
(SD-Agencies)