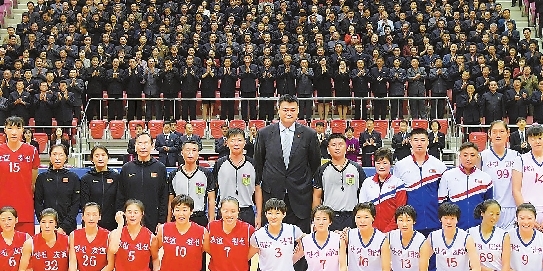 CHINESE basketball legend Yao Ming took center court in Pyongyang, North Korea's capital, Tuesday as Chinese and North Korean basketball players held a friendly match, part of a high-profile sports exchange between the two countries.
Senior ruling party officials turned up for the game.
On the court, Chinese female basketball players who are visiting Pyongyang this week mixed together with North Korean female players to form two teams, called "Friendship" and "Unity."
The Unity team won the match, 107 to 106.
Yao Ming, towering over everyone else in the stadium, congratulated the players at the end of the game.
"Today's friendly match will be a display of top basketball skills and the great sportsmanship of all the players from both of our countries," Kim Il Guk, the North Korean minister of sports, said before the game began.
North Korean leader Kim Jong Un has visited China three times this year.
Yao Ming, a former Houston Rockets center and eight-time NBA all-star, is the head of China's Basketball Association.
(SD-Agencies)