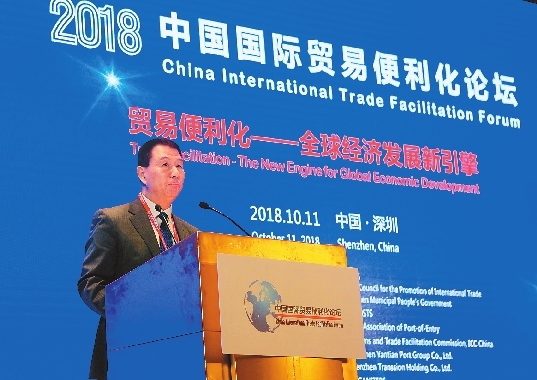 Han Ximin
ximhan@126.com
A FORUM was held Thursday in Shenzhen to discuss ways to promote international trade facilitation through system innovation, service upgrading and procedure simplifications.
The forum, organized by China Council for the Promotion of International Trade and the Shenzhen government, aimed to promote the construction of the Guangdong–Hong Kong-Macao Greater Bay Area, and push forward the all-dimensional and multi-sector trade facilitation cooperation between nations, international organizations, industry leaders and key associations under the Belt and Road Initiative.
More than 300 enterprise representatives, experts and officials attended the forum, discussing the ways to accelerate customs clearance and improve the business environment.
"The purpose of international trade facilitation is to save time and operation costs for enterprises through simplified customs clearance procedures, related policies, standardization and improvement of infrastructure," said Yi Xiaozhun, deputy secretary general of the World Trade Organization, at the opening conference.
"A transparent and predictable business environment will be helpful in lowering trade costs, improving trade efficiency and enlarging business opportunities," said Yi.
Wang Lixin, vice mayor of Shenzhen, said Shenzhen will further improve its mechanism for stimulating foreign trade and establish a transparent, fair and reasonable international trade and investment system while promoting efficiency in people, cargo and information flows.
The China International Trade Facilitation Forum is an annual conference initiated in 2012.