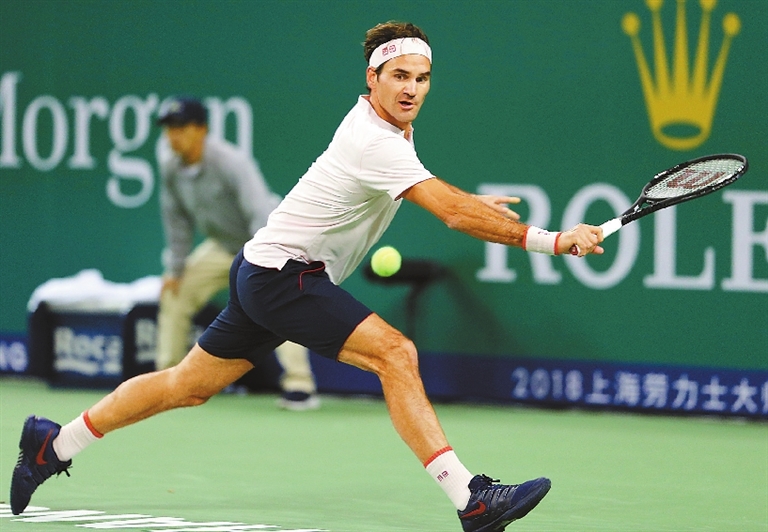 ROGER FEDERER admitted that he came "very close" to defeat as he was given a huge scare before seeing off Daniil Medvedev 6-4, 4-6, 6-4 to open his Shanghai Masters defense Wednesday.
The 37-year-old Swiss top seed faces Spain's unseeded Roberto Bautista Agut in the last 16 after what was an unconvincing start against the Russian.
The 20-time Grand Slam champion initially wasted little time stamping his mark on the tournament, breaking the 22nd-ranked Medvedev in the first game.
But Medvedev, 22, fresh from winning the Japan Open, broke back and enjoyed even more luck on Federer's serve in the second set to force a third.
In what was the first meeting between the pair, Federer broke in the ninth game of the decider to finally destroy Medvedev's resolve in just under two nail-biting hours.
"In the third set I really started to figure it out," said Federer, who was roared on by a band of fanatical fans decked out in red tops.
"How aggressive or how tactical I wanted to make the match, and by trying everything, I found a solution at the end."
Federer, who was uncharacteristically flustered at times, said he was pleased with his performance, but admitted it had been a nervy one.
"Of course I feel pressure from the tournament organizers, the fans, my team, myself, because I know that sometimes coming through a tough first round can be the key to what's to come afterwards," said the 2017 champion.
"Today was very close to maybe not getting that next step."
Juan Martin del Potro and Alexander Zverev also advanced at the Shanghai Masters on Wednesday.
The third-seeded del Potro trailed in the first set and in the tiebreaker but rebounded both times to beat Richard Gasquet 7-5, 7-6 (7).
"It wasn't easy to play for me today," said del Potro, who reached the China Open final last week. "I did what I can. I didn't run too much. But I think I played with all my strength in the important moment of the match.
"I would love to feel better," he added. "I have been talking with the doctors every day."
The fourth-seeded Zverev was also struggling with a cold, but he beat Nicoloz Basilashvili 7-5, 6-4.
Basilashvili arrived in Shanghai after beating del Potro in Beijing to win his second career title.
"I played an opponent who has a lot of confidence," Zverev said. "Obviously he's playing the best tennis of his life, winning in Beijing, and obviously he had a very good match yesterday, as well.
"He knows how to play, definitely. Probably the hardest-hitting player I have ever played against."
Zverev is playing in Shanghai without his coach, Ivan Lendl, who was in Beijing last week. Lendl flew back to the United States to have wrist surgery for an injury, which Zverev said was caused by playing too much golf. Lendl is due to return to the tour before the end of the season.
(SD-Agencies)