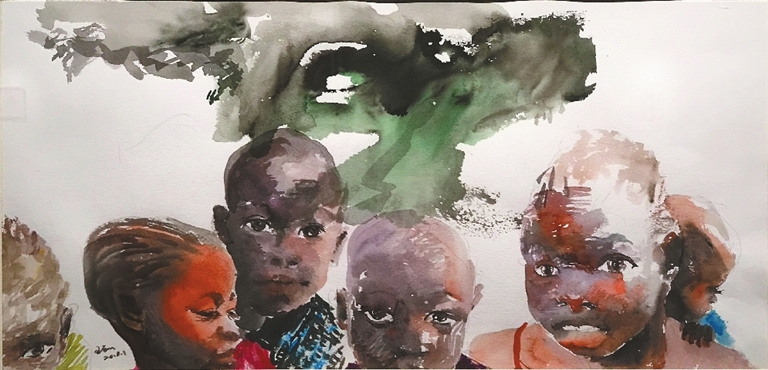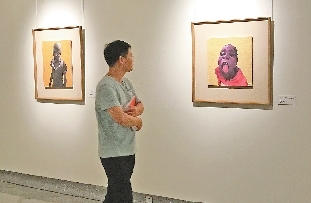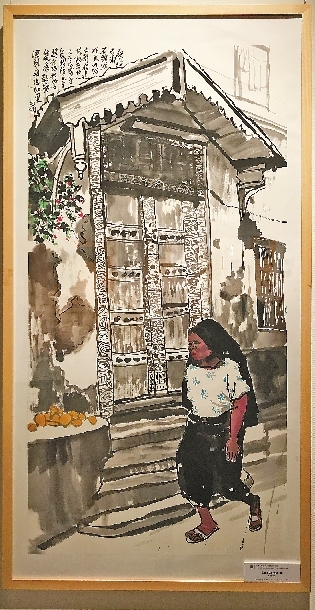 Cao Zhen
caozhen0806@126.com
EIGHT professional Chinese painters exhibited their oil, watercolor, ink and pastel paintings of African landscapes and people at the "Walking Paintbrushes — Africa in the Eyes of Chinese Artists" at Guan Shanyue Art Museum from Sept. 19 to Oct. 8, echoing the sentiment of the 2018 Beijing Summit of the Forum on China-Africa Cooperation held earlier September.
The exhibition, supported by China's Ministry of Culture and Tourism, was hosted by the Network of International Cultural-link Entities. Last year, the eight painters traveled to Mauritius, Malawi, Tanzania, Senegal, Ghana and Ethiopia, where they created more than 100 paintings.
"Through vibrant colors and vigorous brushwork, the artists re-created the beauty of African landscapes and cultures, and deepened China-Africa mutual understanding using the language of art," said Li Rui, deputy director of the Network of International Cultural-link Entities, at the exhibition's opening. "The painters developed a close tie with local African people. Their paintings may not be magnificent or exquisite, but they are vivid, real and approachable," she added.
Painter Zhang Chun, professor at the Renmin University of China's School of Arts, focuses on young Africans in his work, trying to discover how the youngsters preserve their cultural traditions in a globalizing and modernizing Africa.
Liu Kai's paintings are relatively small in size, mostly rough sketches. The associate professor of Shandong University of Arts' School of Fine Arts said that what attracted him most in Africa is its unique ecology, so he sketched in a diary every day to capture Africa's raw nature.
Painter Fu Xuming teaches at the Central Academy of Fine Arts and Tsinghua University's Academy of Arts and Design. His "Tanzanian Fair" captures the daily life of African people, revealing the various lifestyles at all levels of society from rich to poor and offering glimpses at African clothing and architecture styles.
Chen Cheng, a painter at the Network of International Cultural-link Entities, likes to paint tourists to Mauritius. She hopes to present Africa as a melting pot with a diversity of cultures. Wang Zhao, who works at the Central Academy of Fine Arts' Urban Planning School, also focuses on people in her paintings. "In Africa, humans and animals are co-living harmoniously, which is a rare scene in other countries," she said.
The exhibition was held in Chongqing in early September and will tour to Weihai, Shanghai, Hangzhou and Africa after the Shenzhen leg.