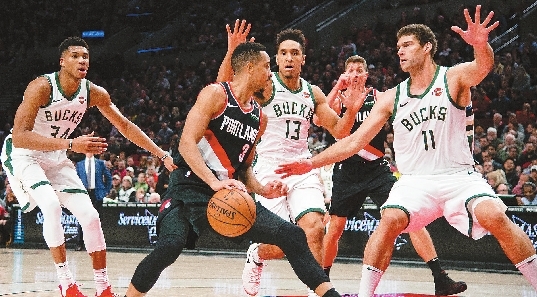 CJ MCCOLLUM scored 40 points and the Portland Trail Blazers beat Milwaukee 118-103 Tuesday night, handing the Bucks their second loss in 10 games this season.
McCollum, who entered shooting well below his career averages, went 17 for 26 from the field and added six assists. Evan Turner had 16 points and 11 rebounds off the bench for the Blazers (8-3).
Giannis Antetokounmpo led Milwaukee with 23 points and nine rebounds. Brook Lopez shot 6 for 10 from 3-point range and finished with 22 points.
In the third quarter, McCollum put on a show. He scored 19 points and made Bucks rookie guard Donte DiVincenzo fall down on a crossover move before hitting a basket, sending the crowd into a frenzy.
Portland led by 14 after three.
The game began with a fast pace that carried on throughout in a meeting between two of the top five offenses in the NBA.
Portland outscored the Bucks 33-31 in the first quarter as both teams shot better than 50 percent from the floor and the 3-point line.
With new coach Mike Budenholzer in charge, Milwaukee is playing a much different style this season. After being a bottom-five team in 3-point attempts last season, the Bucks came in second in the NBA in 3-point tries with 41 per game. That included their 117-113 loss at Boston in which they put up 55 3-pointers.
"Yeah, it's a lot," Budenholzer said. "The game is always evolving with teams, coaches and players trying to figure out what gives them the best chance. The skill of players now today is special, so trying to push that envelope."
One of the biggest changes for the Trail Blazers this season has been utilizing Turner as the primary ball-handler on their second unit. The results have led to one of the best bench units in the NBA so far, ranking ninth in scoring.
"The second unit comes in, their ball movement, their execution — they're playing with each other," Budenholzer said. "They take advantage if the defense overcommits or over-rotates. They're playing really well together. Evan Turner is kind of a great setup guy with that group. It's interesting to see how they've changed a little bit and how it's working for them."
(SD-Agencies)