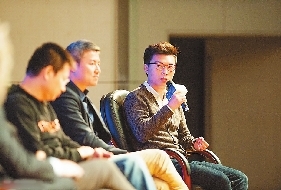 A NOVEL about human-robot relations won the best saga novel prize of the ninth Xingyun (Nebula) Award for Global Chinese Science Fiction, which was announced Saturday.
"Gate of Memories" by Chinese writer Jiang Bo tells of a time when humans turn their bodies into machines to extend their lifespans but face a looming attack from super AI.
"The Monster Reunion" by Chen Qiufan scooped the best novelette prize while "Memories of Chengdu" by Baoshu claimed the prize for best short story.
This year's Xingyun Award, which featured 10 categories, was issued by the World Chinese Science Fiction Association in Southwest China's city of Chongqing.
Dong Renwei, one of the founders of the Xingyun Award and a sci-fi writer, encouraged Chinese sci-fi writers to weave more Chinese elements into the genre born in the West to increase the global readership of Chinese sci-fi.
Sci-fi is enjoying a boom in China, a nation embracing technological innovation. A number of sci-fi novels are being adapted into movies and TV series, including Hugo Award winner Liu Cixin's "The Wandering Earth" and "The Three-Body Problem." (Xinhua)