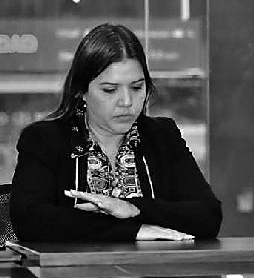 ECUADOR'S vice president resigned Tuesday over allegations by a former aide that she took kickbacks while serving as a lawmaker five years ago.
Maria Alejandra Vicuna announced her resignation on Twitter, saying the South American country did not deserve the "instability" caused by the crisis.
It came a day after President Lenin Moreno distanced himself, suspending her from the post to allow her time to fight the allegations.
In Ecuador, the vice president can only be sacked through an impeachment process in the national assembly, which last week called on her to resign.
Vicuna has been in the post for just over a year. She replaced Moreno's running mate, Jorge Glas, who was convicted and jailed for six years over his involvement in the massive Odebrecht bribes scandal.
The allegations against Vicuna come from a former aide, Angel Sagbay, who said last week that while working as Vicuna's adviser in 2012 and 2013 he regularly banked deposits — totaling around US$20,000 — in Vicuna's account that he claims were kickbacks.
Prosecutors are investigating the corruption allegations and Vicuna said she is confident she will be cleared by the courts. (SD-Agencies)