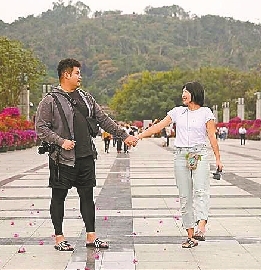 LI SHIZUN and Zu Yuntong, from Heilongjiang Province, recently arrived in Shenzhen during their around-the-globe tour, the Shenzhen Evening News reported.
They visited their relatives in the city after having set foot in 44 countries.
Li and Zu started their world journey by car in May. They first drove to Beijing before exiting China at the Manchuria Port and heading west. They drove through Siberia to Europe and through Central Asian countries to return to China at Korgas Port in Xinjiang.
"I was in Shenzhen in 2002, when I was only 15 years old," said Li. "Standing in the metropolis, I can feel the changes that have happened over the years, which I believe are closely related to its inclusiveness."
This was Zu's first time in Shenzhen. She said Shenzhen is very modern and its residents are full of energy. They visited Zu's sister, the Dameisha Beach Park, Wutong Mountain and Lianhua Hill Park while in Shenzhen.
Li, 31, was a photographer for a television station in Heilongjiang, while his wife, 26-year-old Zu, was an accountant. They sold their apartment and quit their jobs to make their world tour come true.
The couple said that it was only the first leg of their plan and that they would finish traveling the globe in five years. Li said when he was a teenager, he would travel frequently on his own. In 2015, he quit his job and took an 84-day national tour, which inspired his wife to join him in seeing the world.
"It is the people, not the buildings, that truly attract us," Li said while showing the News reporter the gifts they had received during their trip, among which a key chain with a board carved with their license plate number struck Li the most.
They posted their travel photos on Instagram, which made a splash and led a local TV station in Norway to invite them for an interview. "We were so proud of what we were trying to present to the world. When our stories got on the front page of the biggest local newspaper in Norway, we felt totally overwhelmed," Zu said, "We always want to show the world that Chinese people are energetic and enthusiastic about our dreams."
"We believe that traveling is all about making friends. We hope to bring stories back to the Chinese people," Zu said. The couple started planning their journey in September last year and are now working on a book of step-by-step instructions for global travel. (Wang Jingli)