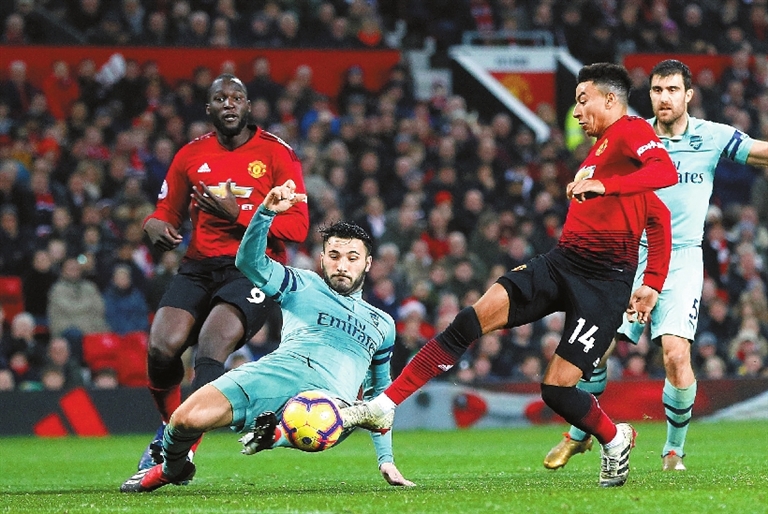 JESSE LINGARD scored a minute after Marcos Rojo conceded an own goal as Manchester United twice equalized in a 2-2 draw with Arsenal on Wednesday at Old Trafford.
Arsenal has not won a Premier League match at United since 2007, and drops fifth with 31 points. United stays eighth, tied with two teams on 23 points.
Shkrodan Mustafi gave Arsenal a lead, helped by a rare David De Gea error, but Anthony Martial had it 2-1 at the break.
The Goal Decision System helped Arsenal ahead in the 26th minute when David De Gea couldn't handle an up-bounding Mustafi header and Ander Herrera's clearance was just past the goal line.
United had an answer in the 31st as Leno palmed a Marcos Rojo free kick toward the end line but Herrera kept it in bounds with an industrious effort that went right to Martial.
Rob Holding was stretchered off the field soon after, forcing Stephane Lichsteiner to take his place.
Things took a scrappy turn with five yellow cards, three to United. Nemanja Matic joined Rojo, Jesse Lingard, Mustafi, and Hector Bellerin in the book.
Arsenal found the goal next through a double Rojo error. The Argentine gave the ball away, then charged down Alexandre Lacazette and pushed the ball into his own goal.
But Lingard scored in less than a minute! Sead Kolasinac's sloppy touch of a loose ball allowed Lingard to poke an equalizer through Leno's legs.
Meanwhile, Manchester City just cannot shrug off Liverpool in what is looking increasingly like a two-horse race for the Premier League title.
Three days after scoring an injury-time winner in the local derby against Everton, Liverpool came from behind to beat Burnley 3-1 and move back to within two points of the defending champion.
Fewer and fewer sides look capable of keeping contact with the unbeaten top two.
Chelsea lost for the second time in three matches, squandering an early lead in a surprise 2-1 defeat at Wolverhampton Wanderers.
That allowed Tottenham to climb into third place — six points behind Liverpool — after a 3-1 win over Southampton.
After 15 games, United is already 18 points behind City.
(SD-Agencies)