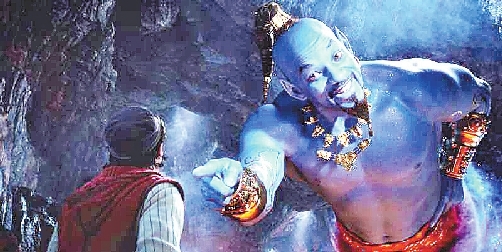 AS promised, Will Smith has granted fans' wishes and has turned an interesting shade of blue for "Aladdin." Too bad the fans aren't that impressed.
During Sunday's Grammy Awards, Disney unveiled a new TV teaser for the live-action remake of its classic cartoon, offering a first look at Smith in action as Genie, the role brought to life in the 1992 original by the late Robin Williams.
The minutelong spot offers brief glimpses of Aladdin (Mena Massoud), Jasmine (Naomi Scott), Jafar (Marwan Kenzari) and the other denizens of Agrabah in the Guy Ritchie-helmed musical, due out May 24, with Smith's Genie crashing the party at the very end.
Smith and Ritchie assured fans that Genie would be his big blue self once the film hit theaters. They were forced to speak up after an Entertainment Weekly cover story in December showed a pre-CGI Smith, which prompted Twitter blowback. Smith even tried to preempt criticism in an Instagram post.
In the EW article, Ritchie described Smith's transformed look as "a muscular 1970s dad. He was big enough to feel like a force — not so muscular that he looked like he was counting his calories, but formidable enough to look like you knew when he was in the room."
One Disney exec told EW that Will's Genie is part "Fresh Prince" and part "Hitch." For his part, Smith said, "I think it'll stand out as unique even in the Disney world. There hasn't been a lot of that hip-hop flavor in Disney history."
Despite the best efforts of Ritchie and Smith, Twitter wasn't exactly thrilled with the reveal.
Many users went straight to making an unflattering comparison between Smith's Genie and Tobias's Blue Man fail from "Arrested Development," while others hoped for a do-over.
(SD-Agencies)