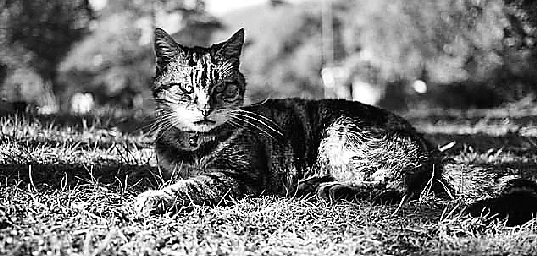 NEARLY 2,000 pounds (US$2,579) has been raised in a crowdfunding campaign to erect a statue of a famous local cat that died aged 17.
Millie the cat won hoards of admirers in Barnet, North London for her adventurous streak that saw her frequent the Spires shopping center so much so that she became known as Spires Cat.
The popular cat also had stints as library cat and Waitrose cat in her long career of stationing herself wherever she wanted.
She died "peacefully" after being ill for some time with a thyroid problem and her owner, Paula Gabb, has been so inspired by tributes to her pet that she wants to permanently honor her.
"I knew everyone loved Millie, but I'd no idea the affection for her was anything like this," she told The Barnet Society.
"The response has been amazing. In less than a week 1,621 pounds has been donated."
Ms. Gabb said she intends to ask the management at the Spires shopping center whether it might be possible to put up a plaque, statue, or bench bearing Millie's name on site.
She added that any excess funds will be donated to the RSPCA rescue center where Ms. Gabb was given Millie.
As well as by wandering around Barnet, Millie made her name by crossing at a zebra crossing on her way between her favorite haunts.
In her early days, she was also seen napping in a library and being shooed away from the fish counter in Waitrose.
Tributes flooded in online to the "real local character."
"A trip to Waitrose will never be the same again," said one admirer. (SD-Agencies)