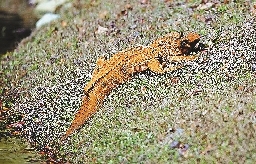 AT least two orange-colored alligators have been spotted roaming around a neighborhood in South Carolina, the U.S., baffling residents.
The orange reptiles were spotted sunbathing in a Bluffton pond earlier last week, causing some concern for residents.
"We walk past this pond every day, at least once or twice," Chad Goodwin explained to WJCL News. "There's a larger one and a smaller one and they take turns in the pond."
The resident explained because of the gators' odd color, he wasn't exactly sure what he was looking at.
"We did not know for sure what it was right away because it was pumpkin orange, sort of, not a bright, bright orange but kind of a rust," Goodwin said.
Alligators are common in the Carolinas, and orange-colored reptiles have been spotted before.
The South Carolina Department of Natural Resources explained the color is likely the result of where the alligators decide to hibernate, perhaps in a rusty steel culvert pipes.
"The likely thing could be is that they spent the winter hibernating in a rusty culvert or drainage pipe," David Lucas explained to the news station. "Or somewhere up on a bank where there's some rust."
In 2017, a pumpkin-colored alligator, which residents named Donny, spent some time roaming a pond in Calabash, North Carolina, while another orange gator was spotted near Charleston.
Officials said the alligators should return to a normal color after spending more time in the water.  (SD-Agencies)