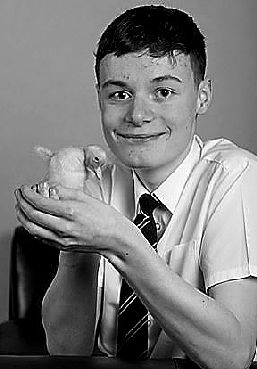 AS duck tales go, this is one that would surprise Beatrix Potter or Hans Christian Andersen. A teenager has hatched a duckling from a Waitrose egg.
Atkins Atkins, 14, decided to test a claim that it is possible to hatch a supermarket egg under the right conditions.
And 28 days after buying half a dozen duck eggs, he was rewarded with the birth of a fluffy duckling.
Cradling the week-old chick, which will be called Jeremy or Jemima once its sex has been determined, Atkins said, "The duckling is absolutely adorable and already making little quacking noises. I am amazed a supermarket egg has actually hatched. But also really excited."
The schoolboy from Sutton Coldfield, West Midlands in the U.K. bought the Gladys-May's Braddock Whites free-range duck eggs and placed them under an incubator bought on eBay in his bedroom.
Three days later he was stunned when after shining a flashlight on to the shells, he saw a beating heart.
He said, "From then on the unborn duckling grew bigger inside the shell every day. Just over three weeks later the egg began rocking and a few days after that the tiny duckling pecked its way out.
"I got the idea after a family discussion about whether it would be possible to hatch a supermarket egg as they are not supposed to be fertilized," said Atkins, who lives with twin sister Eleanor, brother Michael, 17, and parents David, 47, a financial adviser, and Stacey, 48, a sales co-ordinator.
"After doing some research I read about someone who'd managed to hatch a quail's egg. But despite buying supermarket quail eggs nothing happened. So I thought I would try with hens' eggs and ducks' eggs, buying half a dozen of each.
"I wasn't really expecting any to hatch so I was thrilled when around three days after buying the eggs and placing them under the incubator I noticed one had a beating heart.
"Watching it develop over the next three weeks was fascinating. I was over the moon when it finally pecked its way out."
He added, "I love anything to do with wildlife so no one took much notice when I started incubating the egg. They were stunned that I hatched one though — especially mom, who is not sure about me keeping a duckling in my bedroom."
His father said, "I was amazed when I saw Atkins carrying boxes of eggs into his bedroom. I confess I never thought he would actually produce a live duck."
When it grows a little larger, the duckling will go to live at a nearby farm where there are rescue ducks and a pond.
Atkins said, "It will live the happiest life there and I will be able to visit."
A spokesman for Clarence Court, which produces the eggs, said the odds of hatching a duckling were "remarkably slim" but not impossible.
(SD-Agencies)