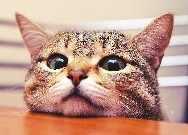 PET owners, particularly cat keepers, should be mindful when using essential oil diffusers, especially if the device is a so-called "active diffuser," a veterinarian recently warned.
Though essential oils are said to have benefits for humans — providing headache relief and helping to assuage stress and insomnia, among other benefits — the products can be dangerous for cats, said Beth Malinich, a veterinarian with the Animal Hospital of Fairview Park in Ohio, the United States.
"They just don't mix," Malinich said. "The oils can cause some severe liver problems."
Cats lack an essential enzyme in their liver and as such have difficulty metabolizing and eliminating certain toxins like essential oils. Cats are also very sensitive to phenols and phenolic compounds, which can be found in some essential oils, the Pet Poison Helpline explains. Specifically, eucalyptus oil, tea tree oil, peppermint oil, cinnamon oil and oil of wintergreen, among others, have been known to cause poisoning in cats. The higher the concentration, the more dangerous the oil can be.
Two popular types of diffusers are "passive" and "active." The former works "by evaporating the oil, producing a pleasant smell," according to the Pet Poison Helpline, while active diffusers emit microdroplets of the oil into the air in addition to producing the pleasant smell. Passive diffusers can sometimes cause respiratory irritation in cats, leading the feline to develop a watery nose or eyes, a burning sensation in the throat or nose and coughing or wheezing. More concerning is the active diffuser. When this device releases microdroplets into the air, the oil may collect on the cat's fur if it is the same room as the active diffuser, the Pet Poison Helpline states, adding "the oil can be either absorbed directly through the skin or ingested when the cat grooms itself."
(SD-Agencies)