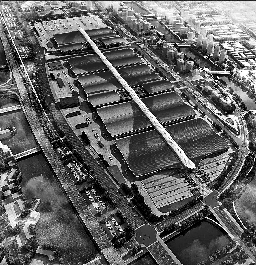 THE Phase I project of the new Shenzhen Convention and Exhibition Center in Bao'an District will be completed by the end of June, the Bao'an Daily reported.
The center in the Airport New Town will, upon completion, replace Germany's Hannover Exhibition Center as the largest in the world, with an indoor exhibition area covering over 500,000 square meters.
Phase I covers 1.21 million square meters. The main steel structure and metal roofing have been basically completed, the paper said, and about 75 percent of the curtain walls and machinery and electrical equipment has been installed. Interior decoration is currently being carried out, according to the report. Phase I will also lead to nearly 80 billion yuan (US$7.44 billion) in direct investment in commercial venues, Metro, roads, pipelines and other infrastructure.
The road and pipeline projects around the new center, including 19 roads with a total length of 29.3 km, will be completed in two phases by June 2020.
Additionally, Bao'an will build a Skybus demonstration line to help carry fairgoers and exhibitors. The first Skybus line, Line L1, to be built by BYD, will start at Tangwei Station and end at the new exhibition center, stretching about 5.27 km. The elevated line will have eight stations and start trial operation August 2020.
Bao'an has also started a smart rapid transit project, featuring a special lane in the middle of the road, connecting Metro Line 11 and the new exhibition center.
Upon the new center's completion, Airport New Town will quickly rise to boost the industrial vigor of Shenzhen's west coast and the city's radiating influence over the Pearl River Delta area.
The city's current convention and exhibition center can't handle the increasing demand for large-scale events, media reports said.
Occupying an area of 280,000 square meters, the Shenzhen Convention and Exhibition Center in Futian CBD was completed in 2004. Its indoor exhibition space only covers 105,000 square meters. It has held about 300 exhibitions and more than 1,350 conferences since opening.
The preparatory work for the new convention and exhibition center started in September 2015.
The new center is expected to open in September, according to media reports last year.
(Lin Min)