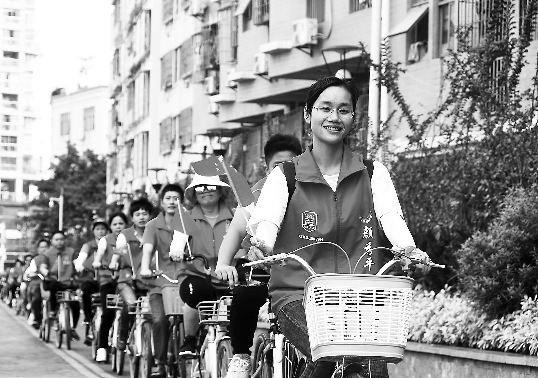 RESPLENDENT in their iconic red vests, volunteers in Bao'an District have long been dedicated to making Shenzhen an immaculate city.
Yan Xiuping, a post-1990 resident who volunteers as the leader of an environmental protection team in Xinqiao Subdistrict, promotes garbage classification at 50 housing estates in her spare time.
Young as she is, Yan doubted whether she was competent to lead her team at first. However, her capabilities have gradually been approved by residents through hosting community events regarding garbage classification, trash pickup, water purification, hiking and biking, family experiences, a talent show and more.
Being both the main organizer and a participant in those events, Yan's endeavors to enhance awareness of environmental protection eventually paid off, as more and more residents are willing to work together to create an immaculate community. She also puts great emphasis on teaching children how to protect the environment.
"Parents are welcomed to join our events along with their children. The best way people can keep the world clean is to pass on the habits and awareness of environmental protection to their descendants," said Yan.
It's the positive feedback from the residents that keeps Yan highly motivated in her work. "When people extend their trust to me, I feel very moved," she said.
(Wang Haolan)