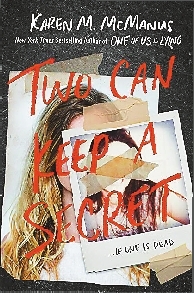 Twins Ellery and Ezra are traveling to the small town of Echo Ridge to live with their grandma for the first time after their mother enters a rehab*.
Ellery, a passionate crime buff*, knows all about the town's unpleasant history. Their aunt disappeared there at age 17, and just five years ago, the high school homecoming queen was murdered.
Not long after, the teens settle in and land jobs at Fright Farm, the Halloween theme park where the killed homecoming queen was found. Soon, threats against the homecoming court begin popping up anew, and then another girl goes missing from Echo Ridge.
Ellery becomes a target as well. The story is told in alternating* chapters narrated by Ellery and Malcolm, whose brother was implicated in the murder of the homecoming queen.
The three separate mysteries in Echo Ridge can be overwhelming to keep track of at times. While the character building may be lacking, and the story line may occasionally get confusing, the history of Echo Ridge does intertwine nicely with Ellery's own family history and moves the plot along. What little romance is included serves to further the plot. Every character will be a suspect at least once, and when the mystery finally unravels*, readers may not grasp the full repercussions* of the conclusion for a long time.
Author Karen M. McManus is the New York Times best-selling author of the young adult thriller "One of Us Is Lying," which has been translated into 37 languages worldwide.
(SD-Agencies)