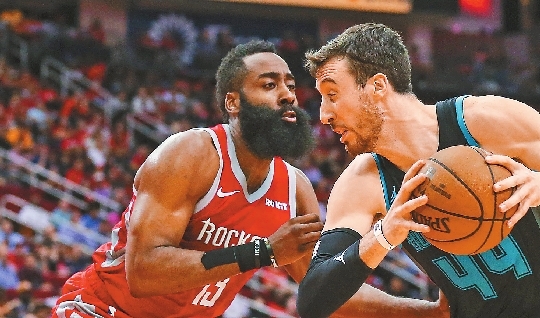 THE Houston Rockets won their 9th straight game Monday night, taking down the Charlotte Hornets in a game that had some ugly blasts from the past.
The Hornets were missing Nicolas Batum, Tony Parker, Michael Kidd-Gilchrist, Shelvin Mack and Cody Zeller. But that didn't stop Charlotte from making a second-half run as Houston and James Harden struggled to make easy buckets, and on Twitter, Rockets fans were concerned that the team was reverting back to the 2017-18 season and about to blow a 20+ point lead to a severely depleted team.
To start the game, the Rockets were excellent defensively, only allowing 19 Hornets points in the first quarter on 40.5 percent shooting.
"We've been guarding and that's helping us offensively get out in transition and get easy points," James Harden said after the game.
Eric Gordon led the way for Houston offensively, scoring 26 points. Gordon has been on fire in March, and has made 26 of his last 51 three-pointers.
"When he plays like that, we're on another level," Harden said postgame.
"Well, I'm getting more shots and more touches now," Gordon explained after the game. "We're just playing really openly. We score the ball a lot better. We're playing a lot faster, so we do a lot of things better than we did early in the season."
Rockets' power forward Kenneth Faried came back from missing a handful of games due to a left hip injury and looked spry all game. He finished with 16 points, 9 rebounds, one steal and one block and gave Nene some much-needed rest.
The Rockets played with a full and healthy team for the first time in months, which included Iman Shumpert chipping in a few three-pointers.
But then came the 3rd quarter. Houston allowed 36 points on 57.1 percent shooting from the field and 58.3 percent shooting from three in the 3rd. Hornets guard Kemba Walker scored 14 of those 3rd quarter points and single-handedly helped Charlotte climb back into the game.
(SD-Agencies)