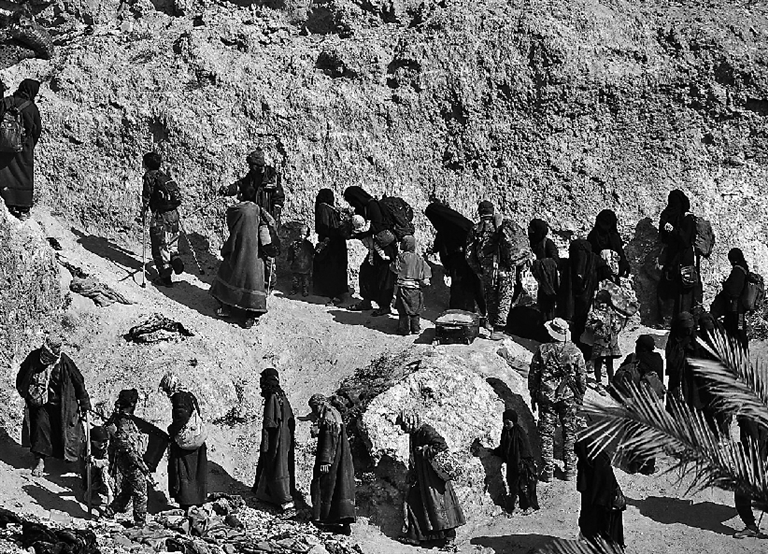 AROUND 3,000 Islamic State members have surrendered from the group's last holdout in Syria, Kurdish-led forces said Tuesday, as air raids and shelling resumed after a brief lull.
A ragged tent encampment in the eastern Syrian village of Baghouz is all that remains of the once-sprawling IS group's "caliphate" declared in 2014 across large swathes of Syria and neighboring Iraq.
The U.S.-backed Syrian Democratic Forces (SDF) has been trying to crush holdout IS fighters for weeks but the mass outpouring of men, women and children from the riverside hamlet has bogged down its advance.
Backed by the U.S.-led coalition, the SDF renewed its assault Sunday after warning remaining IS fighters their time was up.
Airstrikes and shelling have since pummelled Baghouz three nights in a row, killing scores of fighters and prompting hundreds of jihadists and their relatives to surrender. Thousands handed themselves over Tuesday, after a deluge of fire hit the IS encampment the previous night.
"Number of Daesh (IS) members surrendered to us since yesterday evening has risen to 3,000," Syrian Democratic Forces spokesman Mustefa Bali tweeted Tuesday evening.
Three women and four children of the Yazidi minority were also rescued, he added.
The SDF and the U.S.-led coalition resumed shelling and air strikes on the last IS bastion Tuesday evening, interrupting a brief lull in fighting that had taken hold during the day to allow for people to surrender.
Since December, around 60,000 people have left the last IS redoubt, according to the Britain-based Syrian Observatory for Human Rights. (SD-Agencies)