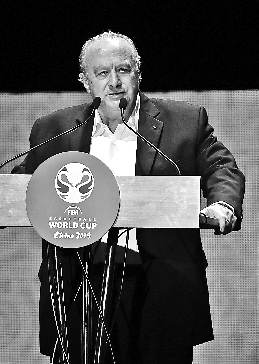 Chen Xiaochun
654789759@qq.com
HOLDING the World Cup in the great country of China, with all its strength, love of sport and economic power, will allow us to have the best World Cup of all time, FIBA president Horacio Muratore told the Shenzhen Daily during an exclusive interview after the FIBA Basketball World Cup 2019 Draw ceremony Saturday.
According to Muratore, holding the FIBA Basketball World Cup 2019 in China is of great significance. "First of all, holding it in China, with eight host cities, will make the event more inclusive, with the number of teams increasing from 24 to 32. Actually, it has really taken tremendous teamwork between FIBA, the Chinese Basketball Association, and the national and regional Chinese governments, which have worked together in the same direction to make everything happen," said Muratore.
Additionally, holding the grand event in China will also provide experience for FIBA and make its future FIBA events less difficult. "Future World Cups will be staged in more than one country.
The FIBA Basketball World Cup 2023 will be hosted by the Philippines, Japan and Indonesia, which beat out a bid from Argentina and Uruguay. It will also be the first World Cup to use the new classification system," said Muratore.
According to Muratore, all of the partners have been working together for almost two years to fulfill all the objectives of giving greater visibility to the sport and trying to make all of the players feel like they're playing at home.
Muratore hopes that the World Cup will leave a legacy in China. "We know that basketball is very important in China. There are many fans. I believe the World Cup will have multiple effects. We feel very happy that the World Cup is being held here, and more and more young people, including boys and girls, will play basketball," said Muratore, adding that he believes China, which has been constantly improving, will become one of the top five best teams in the world.
When asked about the highlights of the draw ceremony, Muratore said that holding the ceremony in Shenzhen itself was a great highlight. "It was a great job. Shenzhen is a beautiful place and the draw ceremony has adopted many new elements, such as blending the draw ceremony with music."
Muratore likes Shenzhen, which is considered the Silicon Valley of China. He shared with the Shenzhen Daily that he had hoped the Argentine team would play in Shenzhen.
"Because, the truth is, I like this city so much and I hope I can visit it more. The people are lovely and they treat me very well. Sadly, Argentina will play in another city," said Muratore.
Muratore, FIBA Americas President since 2009, was unanimously elected as the 12th FIBA president Aug. 29, 2014, during the elective congress in Sevilla, Spain.
Born in San Miguel de Tucuman, Argentina, on Nov. 29, 1951, Muratore is the product of a basketball family, with his father being a founding member of the Tucuman BB club.