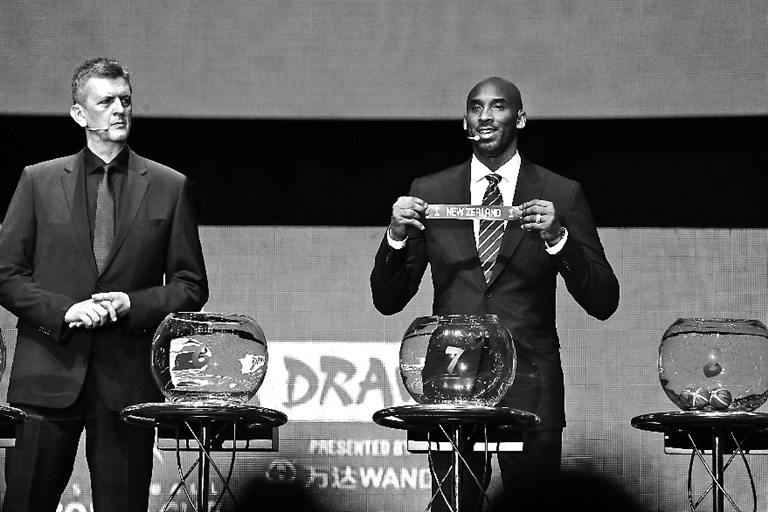 Yang Mei
yangmei_szdaily@163.com
THE FIBA Basketball World Cup 2019 Draw was completed in front of 8,000 spectators at Shenzhen Bay Sports Center in Nanshan District on Saturday evening.
Basketball legend and World Cup Ambassador Kobe Bryant, together with American best-selling singer/songwriter Jason Derulo, headlined the star-studded event. Special guests also included Yang Chaoyue, a member of the Chinese girl group Rocket Girls 101, and former U.S. national team player and Chinese Basketball Association (CBA) star Stephon Marbury.
The milestone event on the Road to China 2019 took place under the watchful eye of FIBA president Horacio Muratore, FIBA secretary general Andreas Zagklis and representatives from the 32 participating national teams, including CBA president Yao Ming and Yi Jianlian, captain of the Chinese national team. They were joined by members of FIBA's Executive Committee and Central Board, as well as high-ranking officials from the Local Organizing Committee and representatives from the eight host cities.
The 32 competing teams were split up into eight groups, determining who they will face in the tournament, which begins in China on Aug. 31.
The host, China, is in Group A for matchups against Cote d'Ivoire, Poland and Venezuela to be held in Beijing, while the reigning champions, the USA, will face Turkey, Czech Republic and Japan in Group E in Shanghai.
Yi said he hopes all of the players will bring their best performance for the big games. "We all expect to have good results in a competition that is being held in our own country. The most important thing is that we believe in ourselves," he said.
"Now is the time to prepare and work on a concrete plan for facing our different rivals," said China's national team coach Li Nan.
Bryant said he expects competition to be stiff and hopes each team will go after every single opportunity to prove themselves. "Every team has a chance to win, you have to believe that all the preparation and hard work is gonna pay off," Bryant said.
The 2019 FIBA Basketball World Cup will take place between Aug. 31 and Sept. 15 in eight cities across China, namely Beijing, Guangzhou, Nanjing, Shanghai, Wuhan, Shenzhen, Foshan and Dongguan.
Their performance in the upcoming tournament will decide whether these national teams can punch their tickets to the 2020 Summer Olympics in Tokyo.