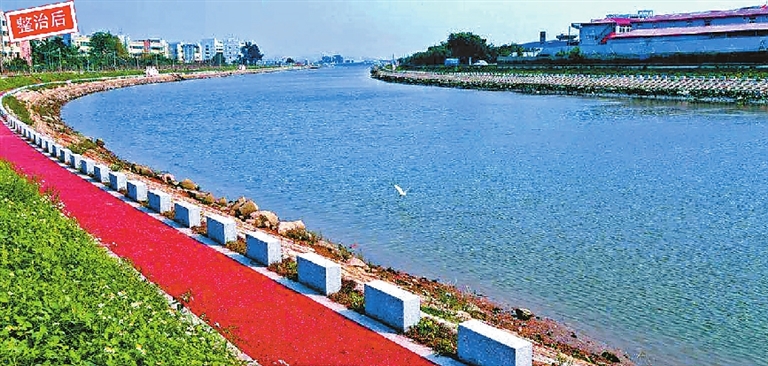 THE Fuyong River, the Shiweichong River and the Bao'an section of the Maozhou River have become new popular places of leisure and entertainment for local residents after a facelift.
"Looking at the clear river, it is like traveling back to my childhood," a resident identified as Chen Lifang said. Chen is a resident in Fuyong Subdistrict.
She recalled that the Fuyong River used to be a fun place when she was a child. She said she could catch fish and shrimps, swim and even drink the river water at that time.
However, the river became polluted with industry development in the 1980s. Villagers living along the river could smell the odor when they opened their windows.
After nearly two years of renovations and upgrading, Fuhai Subdistrict has achieved noticeable results in water pollution control. Moreover, the subdistrict recently installed wind-energy and solar-energy street lights along the river bank.
In Shajing Subdistrict, a resident surnamed Zhou was surprised to see rows of trees had been planted on both sides of the river bank of the Shiweichong River.
"The combination of green lawns and faux-wood railings are refreshing. When the trees on the river bank grow thick and leafy, the staircases on the bank will be a good place for tourists and residents to rest," Zhou said.
According to statistics, the renovation of the polluted part of the Shiweichong River covered 1.45 square kilometers. A total of 136.4 meters of new sewage interception pipe has been installed along the river, and 33,226 cubic meters of silt has been removed.
The Maozhou River, which originates at the northern foot of the Yangtai Mountain and flows through Bao'an District, has also been cleared of pollution after more than two years of pollution control efforts.
By the end of 2018, the main work in the renovation of all of the Maozhou River's tributaries had been completed, and the water quality passed an assessment conducted by Bao'an District.
"When I walked by the Maozhou River three years ago, I had to cover my mouth and nose. Now the river is clear again and has become more beautiful," said a resident named Wu Zhen.
The sewage interception, flood control and silt removal projects on the Bao'an section of the Maozhou River have been completed. The remaining landscaping and greening project will be completed in the near future. (Zhang Yu)