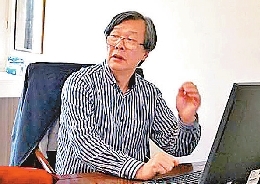 TANG JINYUAN, a U.K.-based traditional Chinese medicine (TCM) practitioner, flew more than 5,000 kilometers to Shenzhen after learning on the Internet about a specialized hospital in Bao'an District that adopts only the diagnostic and therapeutic methods of TCM.
"My intention is very simple. I want to use my experience and expertise in this field to help more people," said Tang.
Born in 1958 in Qiyang, Hunan Province, Tang studied at Hunan University of Traditional Chinese Medicine in 1977 as one of the first batch of college students after the resumption of the national college entrance examinations (NCEE), also known as gaokao.
Tang worked at a TCM hospital in Hunan after finishing his master's degree program at the same university. One of his researches on pulse diagnosis earned him the first prize in the province's excellent teaching and the third prize in the province's science and technology.
Tang settled in the United Kingdom after attending an exchange program there. He has been appointed a visiting professor at several medicine schools in British universities, and he gained wide recognition in fields including the treatment of chronic and complicated diseases, according to yesterday's Bao'an Daily.
"Prominent TCM practitioners like Luo Dinghun and Tang Shulan are well-known for their treatment of eczema in the United Kingdom," said Tang. "Compared to Western treatment that fails to address the root of the disease, Luo used TCM to cure many patients. As a result, he was acclaimed as a magic Chinese doctor by the British, and the medicine he prescribed for his patients was regarded as 'magic tea.' A lot of British media, including the BBC, The Guardian and The Observer, have published reports on him," said Tang.
Tang has been welcomed by the British due to his "magic" treatment of neurological diseases, such as epilepsy, Parkinson's disease, nervous tinnitus, nervous deafness, polyneuritis, depression, diabetes and gynaecopathia.
"The hospital's insistence on using only TCM treatment triggered my interest. I hope they can offer me a chance to help people," said Tang. (Wang Jingli)