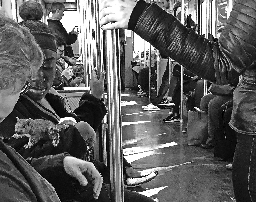 A SURPRISE passenger hitched a ride on a commuter trolley in Boston, the U.S., frightening some people at first, but warming their hearts when it willingly snuggled in a human passenger's arms.
Commuters say a squirrel bounded onto a Red Line trolley Monday morning at an above-ground stop, prompting some passengers to hop onto their seats.
Passenger Rosanne Foley, the executive director of the Boston Landmarks Commission, posted a Twitter photo of the squirrel resting on another person's arm. She tells boston.com someone even tried to feed the rodent a piece of granola bar.
The rodent rider was let off by passengers at another above-ground station.
(SD-Agencies)