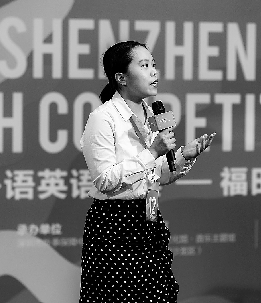 Yang Mei
yangmei_szdaily@163.com
HUANG JINGXIAN, an immigration police officer from Wenjindu Checkpoint, stood out among 29 other contestants to win the first prize and the title of "Most Popular Contestant" at the final of the 2019 Speak Luohu English Competition, which took place at IBC MALL in Luohu District on Friday.
The contest was the Luohu district-level round of the Speak Shenzhen competition. It aimed to encourage residents to learn and speak English and demonstrate the great vitality of Luohu as a driving force in the growth of the Guangdong-Hong Kong-Macao Greater Bay Area.
Two primary school teachers took home second prizes, and Ye Tingting from Luoling Foreign Languages Experimental School and Shenzhen University student Guo Fengying earned the third prizes.
During the contest, each contestant was required to give a three-minute speech themed "Dream Catchers in Greater Bay Area and Splendid Luohu" and then answer questions from the judges.
Huang said in her speech that she has three roles: a policewoman who provides visitors from all over the world with professional and efficient services, a participant in and contributor to the economic development of the Greater Bay Area, as well as a witness to the great transformation of Luohu District. With beautiful pronunciation and a composed manner, Huang won the hearts of the audience and high scores from the judges.
A total of 150 residents from all walks of life, including bank clerks and engineers, signed up for the competition. The five winners, along with the other five outstanding contestants, will compete in the city-level finals on behalf of Luohu District.
Du Peng of Shenzhen Media Group won the first prize at Futian District's English-speaking contest Saturday. Over the weekend, English-speaking contests were also organized in other districts to select candidates for the city-level finals.