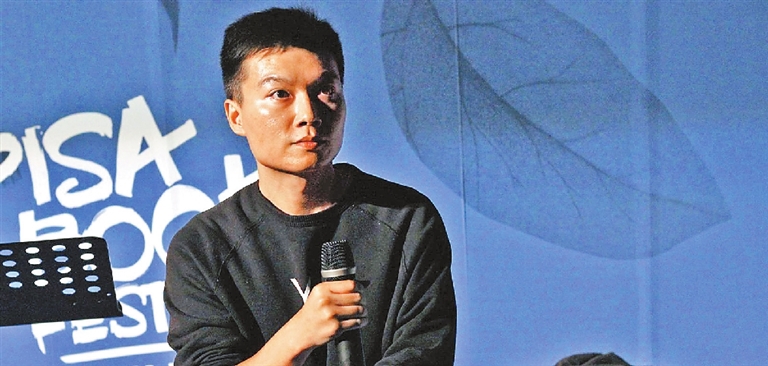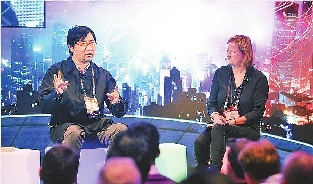 A NEW generation of writers is sparking interest around the globe and setting hearts racing in Hollywood.
Chen Qiufan showed considerable restraint after getting one of his biggest breaks in the world of science fiction.
The 38-year-old spoke with China Daily straight after selling the screen rights to his sci-fi novella "The Year of the Rat" to Infinitum Nihil, a studio founded by Johnny Depp to make films in which the Hollywood star can act or simply produce.
"Of course, it's good news for me, but I have participated in other science fiction adaptations, and it takes ages for a film to be released," he said.
Chen is one of several young Chinese sci-fi writers who have made big breakthroughs in a global market starved of new talent.
Silver-screen movies aren't the only media looking for all-too-scarce writing talent nowadays, and a young generation of Chinese writers, which has shown its mettle with high-quality fiction, has moved to fill the gap.
The works of the nation's sci-fi writers began attracting global attention after Liu Cixin's "The Three-Body Problem" won the Hugo Award for Best Novel in 2015, becoming the first Asian novel to take the prize. Film producers, book publishers and other media, both domestic and overseas, quickly caught the fresh scent of Chinese sci-fi.
In the past 18 months, 32 domestic sci-fi series have been released on the Internet, and at least four high-budget sci-fi films are scheduled to hit cinema screens this year.
Meanwhile, the blockbuster "The Wandering Earth," released last year, has earned more than 4.6 billion yuan (US$679 million) at domestic box offices, and US$5.88 million in the United States and Canada, according to box-office tracker Maoyan.
China's unique cultural environment and rapid economic development have shaped the identities of these emerging writers. When they were growing up, Chen and his contemporaries — born in and around the 1980s — were among the first young Chinese to read Western sci-fi, and they were some of the first beneficiaries of the Internet.
A nation in change
Hollywood is now fully aware of the marketability of Chinese sci-fi stories.
A producer for Depp's company contacted Chen after reading his work in an anthology earlier this year. Chen said the negotiations went smoothly, and he will now meet with a production team to discuss how the film will be made.
Since 2010, his work has appeared in several U.S. publications, including Clarkesworld Magazine and the Magazine of Fantasy and Science Fiction.
His novel "Waste Tide" has been published in six countries, including the United States, while the British Film Institute has been instrumental in helping a British company attempt to make a movie of the book. Chen has just finished reading the script for the film adaptation. "It looks very good," he said.
The book portrays individuals and their different groups of friends on Silicon Isle, a toxic cesspool that is a major center for recycling electronic waste. The inspiration for Silicon Isle was Guiyu, an area in Chen's hometown of Shantou, a coastal city in Guangdong Province.
Guiyu, on the southeast coast, used to be one of the world's largest sites for recycling electronic junk. About a decade ago, its factories processed more than 1.55 million metric tons of electronic garbage from around the world every year.
The near-future dystopian vision in Chen's book quickly caught the attention of Western readers, and Publishers Weekly said the novel was "extremely relevant" to contemporary life, in which morals and ethics are unable to keep pace with the throwaway culture, income disparity and technological advances.
Global readership
Readers from other countries have shown considerable interest in fiction based on this "Chinese reality," enjoying a sense of the exotic, but also the intimate.
Rizwan Virk, a computer scientist at the Massachusetts Institute of Technology, was intrigued after reading "The Three-Body Problem." "It was interesting because it was centered in China, but we are used to science fiction centered in the United States," he said.
Western audiences are accustomed to sci-fi that revolves around the United States or groups like the United Nations, but they wonder about the possibilities when other governments, such as China's, communicate with aliens in movies or games, he added.
Chen said most of his inspiration comes from real life, and he is particularly alert to technology and its role in daily life. He is fascinated by the way social interaction has been reshaped by mobile phones and also by how artificial intelligence has been adapted for different life scenarios.
Chen used to work as a product marketing manager for tech giants, including Google and Baidu, which gave him a chance to get a first-hand glimpse of applications for the most advanced technology.
His experiences in the high-tech sector provided the predominant theme in his work: the relationship between rapid technological advances and people's daily lives.
In a collection of six short stories, "The Algorithm for Life," Chen discussed technologies that challenge the ethical and moral standards of contemporary society, such as memory erasure, gene editing and human hibernation.
'Fan book' to best-seller
One of Chen's contemporaries is Li Jun, who writes under the pen name Baoshu.
"China is undergoing rapid development. People are confused about the future. That provides a foundation for the development of sci-fi," Baoshu said, adding that the genre can satisfy people's innate desire to explore the unknown.
This year, Baoshu's book "The Redemption of Time" was published in the United States by Tor Books, and in the United Kingdom by House of Zeus, both top-flight publishers in their countries.
The novel was originally a "fan book" for the Hugo-award winning trilogy "Remembrance of Earth's Past" — usually known by the name of the first volume "The Three-Body Problem" — an epic tale about Earth making contact with an alien civilization.
The trilogy, which has been published in 11 languages since 2014, has won fans around the globe, including former U.S. President Barack Obama. "Death's End," the third volume of the trilogy, was published in 2010. After reading it, Baoshu found that there were many gaps in the account of Yun Tianming, one of the main protagonists, who disappears and then reappears.
After speculating about what had happened to Yun, Baoshu picked up the idea and wrote "The Redemption of Time," which focuses on the evolution of Yun's character. When he finished the story and posted it online, it quickly went viral.
A short time later, Yao Haijun, chief editor of Science Fiction World, spoke with Baoshu, who contacted Liu, who gave "The Redemption of Time" his blessing. The novel was published in China in 2011.
Baoshu became a full-time sci-fi writer a year later. His journey is typical of successful Chinese sci-fi authors — they publish on bulletin boards, aka BBS, or online forums, attract a following and are then discovered by literary agents.
Baoshu and Liu got their starts on Shuimu Tsinghua, the first BBS for Chinese universities, and one of the most popular. Another successful work that emerged from the site was Hao Jingfang's "Folding Beijing," which won the 2016 Hugo Award for Best Novelette.
The new generation of sci-fi writers is deeply influenced by the Internet subculture. Legions of fans debate and speculate about their books or films, picking over characters, storylines and plot gaps.
According to Baoshu, online writing is substantially different from the traditional form — in which authors work with literary agents or publishers — because it is freer.
"We can even make comic forms," he said, adding that support from fans on the BBS encouraged him to keep going and gave him his start.(China Daily)